Winter War was a cocky invasion of Finlandball (allied with Nazi Germanyball) by Soviet Unionball. The USSR wanted to annex Finland just like poor Estonia. The invasion failed horribly however, as the Soviet Union suffered 3x as many casualties as the Finns.
Gallery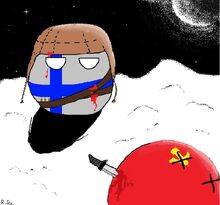 Related templates

Perkele Republic of Finland
Regions

Ålandball • Central Finlandball • Central Ostrobothniaball • Kainuuball • Kymenlaaksoball • Laplandball • North Kareliaball • Northern Ostrobothniaball • Northern Savoniaball • Ostrobothniaball • Päijät-Hämeball • Pirkanmaaball • Satakuntaball • South Kareliaball • Southern Ostrobothniaball • Southern Savoniaball • Southwest Finlandball • Tavastia Properball • Uusimaaball

Finland
Cities
Helsinkiball • Mariehamnball
Former entities
Samiball • Swedish Empireball • Russian Empireball ( Grand Duchy of Finlandball) • Kingdom of Finlandball
Ad blocker interference detected!
Wikia is a free-to-use site that makes money from advertising. We have a modified experience for viewers using ad blockers

Wikia is not accessible if you've made further modifications. Remove the custom ad blocker rule(s) and the page will load as expected.