"
Stop making 'Ur anus' jokes you immature pricks
"
 

— Uranus

Uranusball is the seventh planet in the Solar System. His most defining feature is his extreme obliquity (axial tilt), which he is not too happy about it. Sometimes he cries because all planets criticize his name of being ''uranus'' which sounds similiar to ''Your anus'' actually he isn't a real anus, but just a ice giant that orbits the sun.
He and

 Neptuneball were once in a reverse configuration, with Uranusball being the 8th planet and Neptuneball the 7th. However, they were locked in a gravitational dance with Jupiterball and Saturnball, sending Neptuneball out into the Kuiper Belt.
Composition
Uranus is an ice giant, meaning he is a planet with a thick atmosphere and a large water-ice mantle. Due to extremely high pressures, the water in his mantle exists in exotic ice forms. The pressure may also break up methane molecules, crushing them into diamonds.
Orbit - Rotation
Uranus orbits the Sun every ~40 years, with a semi-major axis of about 20 AU. Like all of the outer planets (Except

 Planet Nineball), his orbit has a low eccentricity and inclination. His obliquity, which is perhaps his most famous feature, is nearly 90°, likely due to a past violent encounter with a protoplanet billions of years in the past.
Moons
Uranus has 27 known moons, although he may have more.
Relations
Friends
Neptuneball - brothers
Jupiterball - Just like me, stop calling him ugly he can rip you in half idiots
Voyager 2 - Thank you for visiting me. I felt lonely…....
Enemies
How to draw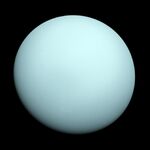 Draw a featureless azure sphere (No circle tool).
Draw faint gray rings around it vertically.
Draw the eyes on the left/right side, and you're finished.
Comics
Polska cannot into space

Planetballs

Planets
Mercuryball • Venusball • Earthball ( Moonball/ Theiaball) • Marsball ( Phobosball • Deimosball) • Jupiterball ( Ioball • Europaball • Ganymedeball • Callistoball) • Saturnball ( Mimasball • Enceladusball • Tethysball • Dioneball • Rheaball • Titanball • Hyperionball • Iapetusball • Phoebeball) • Uranusball ( Puckball • Mirandaball • Arielball • Umbrielball • Titaniaball • Oberonball) • Neptuneball ( Larissaball • Proteusball • Tritonball • Nereidball) • Planet Nineball (theoretical)
Dwarf Planets
Ceresball • Plutoball ( Charonball • Hydraball • Nixball • Kerberosball • Styxball) • Orcusball ( Vanthball) • Haumeato ( Hi'iakaball • Namakaball) • Quaoarball ( Weywotball) • Makemakeball ( S/2015 (136472) 1ball) • 2007 OR10ball • Erisball ( Dysnomiaball) • Sednaball
Stars
Sunball • Alpha Centauriballs ( Proxima Centauriball) • Arcturusball • Betelgeuseball • Gliese 581ball • Siriusballs • Rigelball • Antaresball • VV Cepheiball • VY Canis Majorisball • UY Scutiball • Polarisball • Kepler-22ball • Kepler-452ball • TRAPPIST-1ball • Kepler-90ball • RMC 136a1ball • Edasichball
Exoplanets
Read the rules here before adding them

Speball • TRAPPIST-1 System (TRAPPIST-1bball • TRAPPIST-1cball • TRAPPIST-1dball • TRAPPIST-1eball • TRAPPIST-1fball) • Lich System (Draugrball • Phobetorball • Poltergeistball} • Copernicus System (Janssenball • Galileoball • Braheball • Harriotball • Lipperheyball) • COROT-7 System (COROT-7bball • COROT-7cball • COROT-7dball} • Kepler-90 System (Kepler-90bball • Kepler-90cball • Kepler-90iball • Kepler-90dball • Kepler-90eball • Kepler-90fball • Kepler-90gball • Kepler-90hball) • Tadmoreball • Dimidiumball • Hypatiaball

Other space entities
6ball • Andromedaball • Asteroidballs • Black Holeball ( Supermassive Black Holeball) • Cometballs • Eridanus Supervoidball • Hercules–Corona Borealis Great Brick • Oort cloudball • Milky Wayball • Multiverseball • Universeball