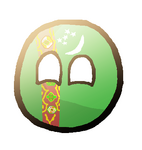 Turkmenistanball is a countryball in Central Asia. It is very neutral and was formerly led by a crazy leader.
It's known for having the most badass yet most detailed flag ever.
Also he can into melon.
History
Turkmenistanball born as a

2ball, adopted by
Russian Empireball and

Sovietball till 1991, when he gained independence.
Friends
Enemies
How to draw
Turkmenistanball known for having one of the worst and hardest flags to draw ever exist on earth:
Color the basic circle shape of this green.
This is the main reason of Turkmen flag difficulty: draw a vertical stripe of five Persian carpets. (Each carpet petterns details and order can be seen in countryball's template)
Draw five white stars and an inverted crescent.
Draw the eyes and you have finished.
If it's infuriating when drawing the rug patterns, just draw a melon and wait for him to come
Gallery
links
[1] instagram page

Related templates