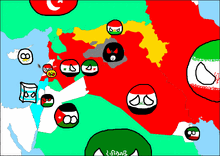 Turkeyball, officially the kebab Republic of Turkeyball, is a countryball located between Anatolia, Asia, East Thrace and Middle East, bordered by Syriaball and Iraqball to the South, Greeceball to the West, and Bulgariaball to the Northwest. The country is divided into 81 provinces, along with his capital Ankaraball, giving him a total area of 302,535 square miles, making him the 36th largest country in the world. With a population of about 79.51 million as of 2016, he's the world's 19th most populous country.
Being a Turkic country, as well as having strong ties with the western world, makes Turkey a member of the Turkic Council and NATO. However, even after his attempts, he has failed to become a member of the EUball due to the many problems he's dealing with.
Turkey was born to Ottoman Empireball, who had collapsed after the end of WW1. As such, his first president Mustafa Kemal Atatürk had helped turn him into a modern and secular state. However, after Ataturk's death, he's had trouble keeping it that way. His government had trouble keeping order, and he's had constant coups and rebellions, as well as a rising and falling economy. Today, many countries worry that he may be turning into an authoritarian dictatorship, although he tries to deny the idea entirely.
His national day is October 29th. To Serbia he´s just a weak kebab.
Personality
Turkeyball hopes that he can get away from the Middle East and become a peaceful country as long time ago.
Turkeyball gets really mad when people call him Arab. Founder of glorious

Turanball, Turkeyball secretly envies

Iranball about his missiles and overall power in the Middle East but distances himself away from him.
He holds a hatred for

Iranball because of the actions of

Iranball in the Karabakh conflict. Turkeyball is also a member of the G20 (or Group of Twenty), a group formed by the countryballs that have the 19 largest economies plus the
EUball.
Turkeyball hates Thanksgiving, for obvious reason. His birthday (national day) is in October 29.
Turkeyball is often referred as "aggressive, nationalist" because of his actions towards many countryballs. It is shown that he has a soft side and fondness towards those who compliment about his war history.
Turkeyball tends to get nationalist so very fast and this is why he often jumps into historical arguments. This can be seen with

Kurdistanball,

Armeniaball,

Serbiaball,

Greeceball,

Georgiaball. And now, Turkeyball plans to join
EUball for 50 years but don't wanna anymore.
Turkeyball is not into
EUball but still has cities in Europe such as
Edirneball, Kırklareliball, Tekirdağball, and Istanbulball. Because of this he has a trademark quote "Feels good to be European!".
Flag Color
Color Name
RGB
CMYK
HEX
Red
227,10,23
C1-M92-Y99-K0
#E30A17
White
255,255,255
N/A
#FFFFFF
Relationships
Friends/Arkadaşlar
Neutral/Frenemies
Enemies/Düşmanlar
Family
Quotes
"Lan" - is a slang word that you can use after a sentence (remotely similar to rude forms of the word "you" in Japanese). to represent anger. It is used to call on people too.
"Amk" - is short version of Amına koyayım or Amına koduğum(un) which means Fuck you and Fucking (off).
"OÇ" - is short version of Orospu çocuğu which means son of a bitch.
"Hassiktir!" - used in the places of "Oh fuck!"
"sg" - is short version of Siktir git which means Fuck off!
"Ne diyorsun" is a short version of u w0t m8.
"Yarrak" and "Sik" means dick and Fuck
"Sana ne" is a version of WHAT'S IT TO YA?! He says it to Armenia quite a lot wonder why
"Ananı sikeyim" means "fuck your mom"
TBMM is Türkiye Büyük Millet Meclisi it means "Grand National Assembly of Turkey"
Turkish for non-Turkish countries: in Turkish, "Türk" means "Turkish" and "Turkic". In Turkish, there is not a word called "Turkic" so they say Turkish instead of Turkic.
Gallery
Links

Related templates

 Kebab Defender Republic of Turkey 
Geographical regions


☪

Aegeanball • Black Seaball • Central Anatoliaball • Eastern Anatoliaball • Marmaraball ( Istanbulball) • Mediterraneanball • Southeastern Anatoliaball • Northern Cyprusball
Region Capitals
Ankaraball (Capital) • Antalyaball • Artvinball • Boluball • Erzurumball • Gaziantepball • Istanbulball • İzmirball • Trabzonball
Former entities
Prehistorical Anatolia • Troyball • Hattiansball • Akkadianball • Luviaball • Assyriaball • Achaeansball • Kizzuwatnaball • Hittitesball • Arzawaball • Mitanniball • Hayasa-Azziball • Lyciaball • Assuwaball • Diauehiball • Neo-Hittitesball • Phrygiaball • Cariaball • Tuwanuwaball • Ioniaball • Urartuball • Lydiaball • Achaemenidball • Macedonball • Cappadociaball • Antigonidsball • Seleucidball • Kingdom of Pontusball • Bithyniaball • Kingdom of Pergamonball • Galatiaball • Armenian Empireball • SPQRball • Kingdom of Commageneball • Sassanianball • Byzantineball • Rashidunball • Seljukball • Danishmendsball • Anatolian beyliksball • Sultanate of Rumball • County of Edessaball • Artuqidsball • Empire of Trebizondball • Empire of Nicaeaball • Ilkhanateball • Ottoman Empireball • Government of the Grand National Assemblyball
Ne mutlu kebabım diyene!
ude