"
Ne mutlu Türküm diyene.
(How happy is the one who says I am a Turk)
"
 

— Mustafa Kemal Atatürk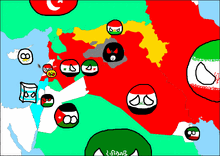 Turkeyball, also known as Kebab The Great or The Main Kebab, is a countryball located between Anatolia, Asia, East Thrace and Middle East. Turkeyball is often depicted as male. He is the brother of

Azerbaijanball.
Hates when people call all

Muslims as Kebab. He gives the reason Turkballs being kebab (

Azerbaijanball,

TRNCball etc.).
He, along with other Turkballs have the goal of forming 

Turanball, which is the
EUball of nations which uses the languages in the Ural-Altaic language family which expands the union to even 

Estoniaball,

Finlandball,

Hungaryball, 

North Koreaball,

South Koreaball and of course,

Mongoliaball. He is also really bad at translating songs.
Personality
Turkeyball hopes that he can get away from middle east and become a peaceful country as long time ago.
Turkeyball is really becoming mad when people say him arab. Founder of glorious

Turanball, Turkeyball secretly envies

Iranball about his missiles and overall power in the Middle East but distances himself away from him.
He holds a hatred for

Iranball because of the actions of

Iranball in the Karabakh conflict. Turkeyball is also a member of the G20 (or Group of Twenty), a group formed by the countryballs that have the 19 largest economies plus the
EUball.
Turkeyball hates Thanksgiving, for obvious reason. His birthday (national day) is in October 29.
Turkeyball is often referred as "aggressive, nationalist because of his actions towards many countryballs. It is shown that he has a soft side and fondness towards those who compliment about his war history.
Turkeyball tends to get nationalist so very fast and this is why he often jumps into historical arguments. This can be seen with

Kurdistanball,

Armeniaball,

Serbiaball,

Greeceball,

Georgiaball. And now, Turkeyball plans to join
EUball for 50 years but don't wanna anymore.  
Turkeyball is not into
EUball but still has cities in Europe such as
Edirneball, Kırklareliball, Tekirdağball, and Istanbulball. Because of this he has a trademark quote "Feels good to be European!".
Flag Color
Color Name
RGB
CMYK
HEX
Red
227,10,23
C1-M92-Y99-K0
#E30A17
White
255,255,255
N/A
#FFFFFF
Relationships
Family
Friends/Dostlar
Neutral/Frenemies
Enemies/Düşmanlar
Quotes
"Lan" - is a slang word that you can use after a sentence (remotely similar to rude forms of the word "you" in Japanese). to represent anger. It is used to call on people too.
"Amk" - is short version of Amına koyayım or Amına koduğum(un) which means Fuck you and Fucking (off).
"OÇ" - is short version of Orospu çocuğu which means son of a bitch.
"Hassiktir!" - used in the places of "Oh fuck!"
"sg" - is short version of Siktir git which means Fuck off!
"Ne diyorsun" is a short version of u w0t m8.
"Yarrak" or "Sik" means dick.
"Sana ne" is a version of WHAT'S IT TO YA?! He says it to Armenia quite a lot wonder why
TBMM is Türkiye Büyük Millet Meclisi it means "Grand National Assembly of Turkey"
Turkish for non-Turkish countries: in Turkish, "Türk" means "Turkish" and "Turkic". In Turkish, there is not a word called "Turkic" so they say Turkish instead of Turkic.
Gallery
Links

Related templates

Ad blocker interference detected!
Wikia is a free-to-use site that makes money from advertising. We have a modified experience for viewers using ad blockers

Wikia is not accessible if you've made further modifications. Remove the custom ad blocker rule(s) and the page will load as expected.