Transnistriaball is a partially recognised countryball that de facto seceded from Moldovaball. He use the flag of Moldavian SSRball.
Relationships
Friends
Enemies
 Moldovaball - Yuo of HORRIBLE MUM MUST REMOVE ROMANIAN NAZI EU PUPPET DEFEND VODKA DEFEND COMMUNISM.
 Ukraineball - He too stationed troops in Transnistria. But now that Ukraine turned Nazi and wants to join the EUball, Transnistriaball threatens to hate him and thinks that Ukraine too tries to steal his clay.
 Romaniaball - Stepfather. Always reminds me to be nice to my stupid stepbrothers. MUST REMOVE Yuor wife hates me! I will soon destroy yuo and yuor wife!
Gallery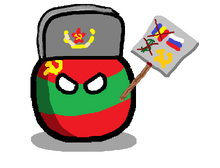 Ad blocker interference detected!
Wikia is a free-to-use site that makes money from advertising. We have a modified experience for viewers using ad blockers

Wikia is not accessible if you've made further modifications. Remove the custom ad blocker rule(s) and the page will load as expected.