Texasball is a state of the
USAball. He is possibly one of the most conservative American stateball ever. He is possibly also one of the most likely to secede from
USAball, due to his rebellious personality. He is a rather trigger happy fellow, even for an American state.
Texasball is sometimes seen wearing shades and his iconic hat. He may also have a Colt Peacemaker, a Winchester rifle, or a shotgun.
History

 Texasball was born as

 3ball until he was adopted by

 Spainball and later

 Mexicoball. He then gained independence for 10 years and those ten years were spent deciding if he should Join the United states which he did join
 USAball in 1845.
Relations
Friends
USAball (Father)(sometime)- Father and former Civil War enemy, and is still steamed about his confusion with Chileball, he also won't let me move out. But ever since Harvey, don't even think I'm ready yet. but you legalized LGBT THO AND I DON'T LIKE IT REEEEEEEEEEE
Californiaball(sometimes) - Liberal younger brother, ideological opposite. Argues with alot, but is just frenemy. We will protect each other from threats. Your Dodgers never had a chance against my Astros, 'cause they won the World Series! We also both want independence from This guy. We will split up the states inbetween each other once we both into independence.
New Mexicoball - Younger brother (he used to be my clay)
Coloradoball - Younger brother (also a bit of him used to be my clay), somewhat a moderate between me and Californiaball. Though he gets annoyed sometimes when Californiaball and I both invade his clay, and he likes weed.
Other Southernballs- half brothers ( special former relationship)
All other Stateballs - Half brothers
Chihuahuaball, Coahuilaball, Nuevo Leónball, Tamaulipasball - Mexican stateballs that send too many drugs and immigrants over the Rio Grande.
UKball - Grandfather tell dad to gib me a gun this christmas plox
Spainball - Grandmother
Australiaball - Adoptive uncle that has a lot in common with Texasball. They wear silly hats, have funny accents, have very big egos, etc. But annoyingly his son, Western Australiaball, is even bigger than me and the darn Alaska put together!
Queenslandball - Australian Texas
Western Capebal - African Texas
Albertaball - My cousin who is a lot like me, so we are friends.
Tennesseeball - Thanks for helping free me from Mexicoball. (Sometimes) We also both like bluegrass
Enemies
Major Cityballs
Family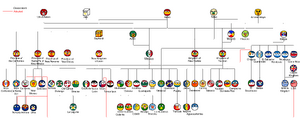 Gallery
Artworks
Comics
Link