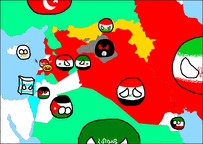 Syrian Civil War is a conflict in Syria, starting in 2011 caused by the Arab Spring
It all began when FSAball told Syriaball to get lost. Syriaball overreacted and wracked FSAball on the head. Lucky FSAball had many friends in Syriaball within North and north west Syriaball. So FSAball control the north and Northwest of Syriaball . After a few years of fighting his older brother (Syriaball) FSAball began to break apart from the inside. 2 of the very important ball to leave FSAball was Jabhat al-Nusra ball and Islamic Frontball. Sometimes jabhat al-Nusraball would fight his dad (FSAball). After a while of fighting Syriaball got all of their weapons and money and sometimes troops from Chinaball, Russiaball, Iranball and Hezbollahball. At the same time FSAball was getting help from every middle eastern countryball that hated Syriaball. Then Jabat al nursaball became a dad when ISISball was made. ISIS and jabhat al-Nusraball friendship is confusing in a way. Then the war spilled into to Iraqball when ISISball rolled up in their clay. USAball requested a ceasefire in Early 2016 but Syriaball rejected it and said he wanted to retake all Syrian clay. In March of 2016, Rojavaball declared its own federation - Federation of Northern Syriaball. Now that Trump became the president of USAball, Syriaball decided to use showers chemical weapons on himself and killed thousands of Syriaballs (according to the West). After this USAball shot a missile at the airport where Syriaball used chemical weaponry. Israelcube has been fighting on the border against FSAball and Hezbollahball with airstrikes.
Gallery
ISIS FSA ??? Syrian Arab Republic
ENEMIES
ISISball • FSAball • Rojavaball
Governorates


★ ★

Latakiaball • Idlibball • Aleppoball ( Aleppoball) • Al-Raqqahball • Al-Hasakahball • Tartusball • Hamaball • Deir ez-Zorball • Homsball • Damascusball (capital) • Rif Dimashqball • Quneitraball • Daraball • Al-Suwaydaball
Historical entities
Natives • Assyriaball • Achaemenidball • Seleucidball • Parthiaball • SPQRball • Sassanidball • Byzantineball • Rashidunball • Umayyadball • Abbasidball • Fatimidball • County of Edessaball • Principality of Antiochball • County of Tripoliball • Ayyubidball • Mamlukball • Ottomanball • French Mandate for Syria and the Lebanonball • Republic of Syriaball (1930-1958) • United Arab Republicball
Ad blocker interference detected!
Wikia is a free-to-use site that makes money from advertising. We have a modified experience for viewers using ad blockers

Wikia is not accessible if you've made further modifications. Remove the custom ad blocker rule(s) and the page will load as expected.