"
¿Por qué no te callas?
"
 

— King Juan Carlos
Spainball is a countryball in Western Europe. A history full of corruption, conspirations and extreme good luck for maybe one of the most developed countries in Europe, because of those factors mentioned previously

Spainball used to have one of the biggest empires in history, but then he became a frustrated economic vassal of

Germanyball, but has now paid debts.
Nowadays, he is currently suffering with so many independence movements inside of him. He also has a twin brother country called

Portugalball who is trying to rob his clay which he also likes to annoy.
After a period of schizophrenic inferiority complex when he wanted to become

Burgundyball,
Andalusiaball,

Austriaball and

Naplesball, he reconciled with himself (and with

Franceball who always believed in his mental healing despite of the damage he has suffered with it).
He is known for bullfights, football clubs, and his majestic dances like bolero, borri-borri and flamenco.
His friends are countryballs in
 EUball and some other South American country. Thanks to his neutrality, he is a country that has very few enemies.
He was also the inventor of the steam submarine.
His national day is in 12th of October. His astrological sign is Libra. He is always silent when his national anthem, Marcha Real plays.
Historia
First raped by the Celts, then raped by the Romans, then by the Visigoths, then by the Muslims, then got the biggest empire of the world and lost it. In 1580, Portugal and Spain we unite and the country of the two countries is Iberia and in 1640, Iberia death. 
Got defeated by the French later when the French turned on him due to Napoleon and lost 2⁄3 of one of his colonies and was turned into a french puppet state, but then he ousted french rule and a long time later was being raped by economics. He was in crisis but since 2016 he is recovering his economy. And also have good relationships with some countries. 
He is proud of his past as one of the greatest empires in the history of the countryballs. For a long time he dominated much of South America and Central America, including parts of North America. 
He was respected and feared throughout the world for his army power, possessing for centuries one of the most powerful navy in history and a gigantic army. He was a largest and stronk empire. But right now he is a having a bit of economic trouble. 
In the last decade his unemployment increased significantly and due to the "economic instability," many of his communities want their own independence and autonomy of hI'm (such as

Basqueball and

Cataloniaball).
He didn't participate in any of the World Wars (however, in the middle of World War II, he helped

Naziball by sending troops to deal with

USSRball and in World War I he supported

Reichtangle and

Austria-Hungaryball because they were good friends.)  
From about late August to mid-September every year, he hosts the Vuelta a España cycling race, one of the three Grand Tours (his brother Franceball and his brother Italyball host the other two - the Tour and the Giro).  
In the comics he usually appears in large groupings with Spanish-speaking countries, interacting with them natural and economic goods; in the comics in which he appears alone, often criticized his internal problems of the country. Another frequent theme in Spainball comics is his history. 
Relationships
Parents
SPQRball - Mi abuelo. He was my inspiration to create my empire.
Byzantineball - Mi tío. Before he died, his last emperor sold the birthright as the Roman Emperor to my kings. I own these rights until today, it makes me the true modern successor of the Roman Empire (take this, Russiaball and Germanyball).
Umayyadball - Kebab abuelo. El left kebabs culture in one of Mi city, Seville(Al-Andalus). Now, Seville is a kebab city.
Kids
Siblings
Friends
Iraqball-I know EXACTLY how you feel about Kurdistanball.
Neutral
Enemies
¡Mi niños! (Former Spanish Colonies and other hijos)
Family
Regionballs
Gallery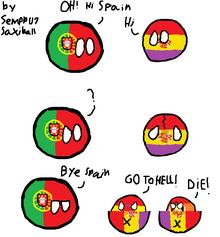 Links
Ad blocker interference detected!
Wikia is a free-to-use site that makes money from advertising. We have a modified experience for viewers using ad blockers

Wikia is not accessible if you've made further modifications. Remove the custom ad blocker rule(s) and the page will load as expected.