The contents of this page are subject to change.
Recent things have happened to South Koreaball, so it is subject to change. You can add the new information too! Alternatively, visit the talk page to add recent information that it should have.
"
오 필승 코리아! Oh hurray Korea!
"
 

—

South Koreaball
"
귀요미입니다
"
 

—

South Koreaball
South Koreaball is a sovereign countryball in East Asia, constituting the southern part of the Korean Peninsula. She likes to call herself just Koreaball or ROKball despite Evil North Koreaball sayings he is the true Korea. It shared clay borders with North Koreaball, her sworn enemy brother to the north. South Koreaball loves K-Pop, her pop music. She is also known as one of the richest countryballs in Asia (east Asia). In 1994, South Korea into Developed Country. So into OECD (Organization for Economic Co-operation and Development). South Korea is one of the members of the G20 (or Group of Twenty), a club formed by the countryballs that have the 19 largest economies plus the
EUball.
Other balls think South Korea is dangerous, but her brother only talking, talking and talking bad words. South Korea's safety is 1st in the world, and Internet speed is 1st, too. South Koreaball enjoys modern and decent lifestyle, and lives with Jejuball, who is considered to be the most clean and natural island in the world.
The recent rise of Hallyu (K-Pop, Korean dramas, Korean culture,k town (but failed)) has made South Koreaball an extremely popular countryball, and earning tons of money from exporting its culture. K-Pop and K-Drama is also very famous, and is considered to rival even those of
USAball's pop industry.
In Polandball, South Koreaball's speech sometimes has "R"s and "L"s swapped to make fun at how all Asians supposedly speak. Although in reality Koreans and

Chinese can pronounce these words just fine as they have both "R"s and "L"s in their languages, unlike the

Japanese, which does have this issue of mixing up the two letters. But because the mighty, all-knowing
USAballs think all Asians are the same, so South Koreaball's speech sometimes has "R"s and "L"s swapped as well although its a solely Japanese issue.
South Koreaball hates

communism for

obvious reasons, but also being ganged up by three communist countries during the Korean War. So much that she has banned communist parties throughout the country and has made a military song called "The Torch of the Annihilation of Communism (멸공의 횃불)". This makes
USAball very proud of her, although they had a brief spat in 2002 after USA military vehicles ran over some schoolgirls, which produced protests.
History (역사)
Koreaball's history started at around 80,000 BC, and in BC 2333, made the first kingdom, called

Gojoseon. Later on, it divided into four countries, called

Goguryeo,

Silla,

Baekje, and

Gaya.

Gaya, which was in-between Silla and Baekje, later fell, and the three kingdoms constantly fought each other.
Silla eventually conquered the rest, and made Unified Silla. However, this did not last long and Unified Silla turned into Goryeo.

Goryeo was very indulged in Buddhism, and made many temples. This was the age when many Buddhist temples and infrastructures were made. However, unfortunately, Genghis Khan invaded Goryeo and destroyed most of the flourishing culture. Much of the temple still remains destroyed or gone after the Mongolians burnt them down.
Goryeo was on the verge of becoming completely

Mongolian Empire, until Joseon was made. Just before Joseon was made, the Mongolian Empire fell and disappeared.
Joseon had the most flourishing dynasty of all, and it built massive lavish buildings and treasures. Joseon also liked the current Chinese dynasty

Ming Dynasty, and sent many treasures and missionaries to China. In 1592, a huge Japanese invasion landed on Korea (임진왜란). When things were gone and there was no hope, an Admiral called Yi Sun Shin (이순신) pushed the huge 330 Japanese ships back to Japan with only 12 ships of his own. Yi Sun Shin is still considered as a national hero even today in South Koreaball.
Later,

Joseon was invaded by

Qing China, because Joseon refused to help Qing Dynasty, but instead helped the dying Ming Dynasty. Joseon managed to push them back again, and had some peaceful ages, but had to pay tributes to the Qing. Korea eventually gained independence from China in 1895.
Later, in 1910, Imperial Japan destroyed Korean Empire. They colonized Koreaball for 35 years (1910~1945) and raped and tortured and massacred many Koreans. They even used them for human experiments and for cannon fodder and forced labour. South Koreaball and his brother

North Koreaball were born in 1917 and they headed the 1st independence movement in 1919 and later they lead the Korean Liberation Army during World War 2.
Some

Japanese still deny this history, and that is why South Korean-Japanese relationships are not very good.
Korea was liberated in 1945, South Koreaball's father was dying from Japanball's torture. South Koreaball became good friends with
USAball, and was taught capitalism, in contrast to

Sovietball being friends with his brother and teaching him communism. Korean Empireball could not stand his torture from Japanball, and could also not be alive anymore. Because of this, he died peacefully.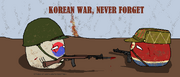 In 1950, her brother invaded his clay, but USAball and his

NATOball friends helped her, until Chinaball came onto North Koreaball's side. An armistice was signed in 1953, but the border between their homes is still heavily armed.
Following the Korean War, Sovietball and USAball supported rival dictatorships - Kim Il-Sung in the North, and Syngman Rhee, later Park Chung-hee (father of former president Park Geun-hye), in the South. Both countries began a process of rebuilding and industrialization. Initially, North Koreaball was ahead of his brother, but eventually South Koreaball eclipsed his brother and became one of the four Asian tiger economies. By the late 1980s, the military dictatorship was replaced by a democracy.
In 1988, North Koreaball boycotted South Koreaball's Olympic Games in Seoul. They marched under a united Korean flag in 2018 though, giving it hope that her brother might be cured and his life turned around.
Together with enemy

Japanball, South Koreaball had the 2002 World Cup. In 2015, she had the Gwangju Universiade and planning to have the 2018 Winter Olympics in

Pyeongchang(is gonna have live vr) and on December 9 2016, The 18th president impeachment was be passed. and March 10, 2017, Park Geun-hye was removed from office as President of South Korea (just like how

Dilma Rousseff was removed from office as President of Brazil in early 2016). South Koreaball now spends her days doing K-Pop, and (sometimes) cosmetic surgery. She also does stuff on her phone alot. Samsung, LG, Daewoo, Hyundai, KIA, Ssangyong, Lotte(korea), and Doosan is one of the main companies famous in the world, and Samsung especially is currently covering the electronical market. South Koreaball made miraculous development in the 20th century, and still continues to make rapid growth (about 3.4% a year). It is predicted that South Koreaball may become richer and more powerful than Japanball in about 5~8 years. South Koreaball also ranks as the most innovative country (by Bloomberg), and is currently sharing the crown with Japanball as one of the most advanced countryballs in Asia and the world.
How to draw (그리는 방법)
1. Draw a circle.
2. Draw a circle center like in the Yin - Yang without the circles. The top is red, the bottom is blue like the pepsi thing.
3. Draw these black trigramms (clockwise, from up-left): ☰, ☵, ☲, and ☷ (Three, Five, Four, Six)
4. Draw the eyes and you are finished.
Family(가족)

Administrative Divisions(지역)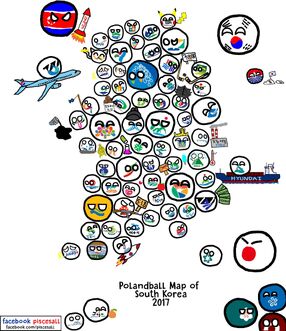 Relationships
Friends (친구 Chin-Gu)

Norwayball - He helped me and provided medical support during war. We of friends now and I give him some K9 Howitzers. He is of dominating Pyeongchang Olympics! Nordic OP, of nerfings please!
Neutral (중립)
Enemies (적)
Famous South Koreans
Quotes(인용문)
"Aigo!!"(아이고!!) - Argg!!
"Hwayting!"(화이팅) - Fighting! (used as a phrase to boost things up)
"Manse!"(만세) - To boost morale, in conjunction with "Korea" ("daehanmingug manse") it equals "God bless America" or "Vive la France". Means 'Myriad of Years'. However it is commonly translated as"Hooray!"
"Annyeonghaseyo"(안녕하세요) - Hello
"Myeolgong!"(멸공!) - Annihilate communism!
"kkkkk"(ㅋㅋㅋㅋ) Used instead of "lol"
"Shibal!!"(시바!! or 씨발!!) - same word as"kurwa" and "f*ck".
"Jotgatne!!"(좆같네!) - Damn it
"Gwiyomi"(귀요미) - Cutie (same to Kawaii)
"Ppalgaengyee"(빨갱이) - Calling North Koreaball (or any commie) in the lowest way
"Ppalchisan"(빨치산) same as "Palgangyee"
"Ssi"(-씨) - Respectful way to call someone's name. Used at the end of the name like (: Of course, America-ssi!)
"Nim"(-님) - Similar to "Ssi" but used for higher honorific form. 
"U-Wa" (우와!) - Wow!
"Ne" (네) - Yes
"Bbo bbo" (뽀뽀) - Kiss
Gallery(사진첩)
Images of South Koreaball's subdivisions
Links