This page requires sanitation.
This page needs more accurate, less vandalistic/biased information or better formatting, it would be much appreciated to help!
"
REMOVE KEBAB FROM THE PREMISES!
"
 

—

Serbiaball's catchphrase
"
Harmonija je korijena srpske kulture
"
 

—

Serbia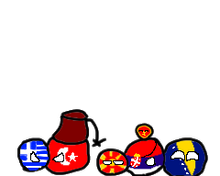 Serbiaball is a countryball living in Southeast Europe, specifically on Balkan peninsula. He is well known for being expert 
kebab remover and starting World War I. He sees himself as very strong, and he has claimed that his horses are invincible and incredibly stronk. He wants to own most of the world's kebab clay. He now wears an eyepatch after he sacrificed his right eye when he blocked
 kebab bullet, which was meant to hit

Montenegroball.
Serbiaball has removed many things like: Kebab, sauerkraut, bunker and kebab again!
He's also well known for winning Eurovision on his debut in 2007 with Marija Serifovic's song Molitva. Unfortunately he inherited multiple personality disorder from his dad

Yugoslaviaball, he loves his brothers and wants to reunite but at the same time he wants to commit ethnic cleansing, especially on anything kebab. He also wants them to be happy. GIB REPUBLIKA SRPSKA INDEPENDANCE OR I WILL ANSCHLUSS YOU BOSNIA.
Serbiaball is also the leader and founder of the KEBAB REMOVAL SQUAD which includes

 Himself, 

Greece, 

Hungary,

Armenia,

Romania,

Croatia,

Slovakia,

Poland,

Russia,

Myanmar and many many others. They like to remove Muslims or so called Kebabs.
History (историја)
Early History
Serbia was born a

2ball like all European countries and was in Southeastern Europe with other countries.
In the 7th century,

Slavball ancestors of Serbiaball arrived in what is now Serbiaball's clay. In 768, Serbiaball was born for the first time.
Middle Ages
Serbia was split into four small countries (Dukljaball, Zachlumiaball, Travunijaball and Raškaball (administrative)). Later, Serbia was a small kingdomball in the Balkans at the time.
In 9th century, he converted to Christianity. In 13th century he became vassal of

Byzantineball. The 13th and 14th centuries were a golden age for Serbiaball. He was sort of an innocent countryball back then. He was under Nemanjić dynasty. In 1331, Stefan Dušan Silni ruled Serbiaballs and their clay and he was great emperor. He made Serbia great until Uroš Nejaki came. He was the worst emperor so Empire broke up when he ruled.
But this would soon end when in the late 14th century when
kebab invaded the Balkans. Serbia lost 70k remover against
kebab in the Marica River in 1371, then at Kosovo in 1389 it was inconclusive, but then defeated at the city of Smederevo in 1459 and finally at Belgrade in 1521. Serbiaball swore to take revenge. This is when Serbiaball first starts hating
kebab.
During the invasion

Wallachiaball was of helping me defend, even if we failed, thanks bro, never forget!
While being under
kebab domination, he rebelled in 1594 but was defeated, then again in 1683 but was also defeated, then in 1804 but it only lasted for some time and in 1812 they were finally defeated, then in 1815 and this time
kebab gave Serbiaball some autonomy.
Modern Times
In 1878 Serbiaball became indepedent REMOVE KEBAB!!! and in 1882 Serbiaball's country became a Kingdom.
In 1913 he removed
kebab for good from Balkans with the help of Kingdom of Montenegroball,

Greeceball and

Bulgariaball.
But then they couldn't agree on the new borders, so he with

Greeceball and

Romaniaball fought and defeated

Bulgariaball. A sad moment for the nations of Balkans indeed (sorry bro).

Serbiaball's history in a nutshell: REMOVE KEBAB!
How WW1 Started
This Franz (an  

Austria-Hungaryball) was of visitings of Sarajevo in 1914. A Serbiaball called Gavrilo Princip was ready to do crap on Austriaballs and he killed Franz.

Austria-Hungaryballs was however planning to take over Serbian clay anyways, he of sendings an ultimatum that was impossible for Serbia to agree upons as it would make them into slave. He didn't agree so Franz got so mad, that he used this as an approval and of invaded Serbiaball.

Russiaball was a friend of Serbia, so helped Serbia, but

Germanyball was friend of

Austria-Hungaryball,

Franceball was a friend of

Russiaball,

Montenegroball was a friend of Serbiaball,

German Empireball attacked Belgiumball's clay, but UKball was friend of Belgiumball, Bulgariaballs and Ottomans were friends of Germany, USA, Japan and Portugal were friends of UK and Italy was rival of Austria and Romania and Greece were friends of Serbia. That's how WW1 was!
After this he anschlused

State of Serbs, Croats and Slovenesball and also anschlused Kingdom of Montenegroball and that created

Kingdom of Yugoslaviaball. 1918 best year of life for Serbia's citizens.
Yugoslaviaball
Serbiaball was a part of
The Kingdom of Yugoslaviaball, with his brothers

Sloveniaball,

Croatiaball,

Bosnia and Herzegovinaball,

Macedoniaball ,

Montenegroball and two autonomous provinces:

Kosovoball and

Vojvodinaball.
At first it was a kingdom but then

Nazi Germanyball invaded it.
After world war 2,

Yugoslaviaball became communist. It was all of goods and nice until of death of Tito.
Serbiaball wanted to turn

Yugoslaviaball into a greater Serbia because Slobadon Melosevic, the current leader of

SR Serbiaball at the time, was a nationalist and so were the leaders of

SR Croatiaball and
SR Bosniaball since Croatia wanted to be free again and Bosnia was of willingly to join if also became free. So of wars between

Croatiaball, Serbiaball,

Bosnia and Herzegovinaball broke out. They let Slovenia leave because they of realizings that its better to havings of independent ally than violent separatist.

NATOball even invaded the body of Yugoslaviaball and helped to free the absorbed siblings of Serbiaball. And oh yeah, and somehow Macedonia got its indepence without any blood spilled. This caused Yugoslaviaball gradually to regress back to ... Kid Buu Serbia and Montenegroball.
As said before, after the Yugoslav Wars, Serbia and

Montenegroball became

Serbia and Montenegroball, then

Montenegroball left me and now

Kosovoball wanna leave me.
But today Serbiaball is a peaceful country and might join EUball in 2026. And he his trying to forget the past but he still removes kebab.
Personalities:личности
The only way to know which personality is in control is by looking under his eyepatch (but don't, you'll regret it).
Relationships
Friends (пријатељи)
Neutral (неутрално)
Enemies (непријатељи)
Family (породица)
Quotes
Oj Slobo pošalji salate, biće mesa, biće mesa, klaćemo Hrvate!
Samo sloga srbina spašava!
REMOVE KEBAB!
Kosovo is Serbia!
Kosovo je srce Srbije!
Ubi, zakolji, da Šiptar ne postoji!
Ubi Hrvata da Šiptar nema brata!
Granate na Hrvate!
Nema vrba koliko ima Srba, ali ima grana koliko Muslimana!
Nema vrba koliko ima Srba, ali ima granata koliko i Hrvata!
Vreme za Rakiju!
Živeli!
Bre Bre
VUČIČU PEDERU, IZDAO SI SRBIJU
Bog je Srbin i on će nas čuvati!
How to Draw Serbiaball
To draw Serbiaball start with a normal ball. Add a red block to the top, a blue block in the center and leave the bottom white. Then find Serbia's Coat of Arms. Draw this as the left eye (Looking Straight On) then add the straps to form an eyepatch. Now add his other eye and you are finished!
If you wish you can also add a Beret and accordian if you wish for him to remake the REMOVE KEBAB video
Famous Serbs (Bosnian Serbs count)
Gallery
Artwork
Comics
Videos
Links
Link comics: