Sealandball is stronk and relevent the most famous micronation. It is located on a seafort that the

British built during World War II. It has a football (
"dude, it's soccer!") team, but FIFA doesn't allow his team.
History
Before Sealandball was founded, the platform he is seated on was one of several series of sea forts meant to prevent Naziball's Air Force from bombing

UKball's clay. After World War 2, these platforms were abandoned and left to the elements.
Sealandball was founded by a pirate radio broadcaster (UKball was trying to prevent rock and roll from degenerating his society at that time) trying to take advantage of the platform to broadcast banned music. While doing so, he and his son had a run-in with the law after he tried to scare away other pirate broadcasters by shooting a few warning shots their way; drawing UKball's attention. Sealand was summoned into court over the incident and came to found out that the incident occurred outside of UKball's soverign territory (UK claims only 3 kilometers of water away from their shores under international laws). The budding microball having won the legal war, announced his soveringty and became a microstate. The little Sealand however was not prepared for a proper war, which soon came. Set up by a rebellious sealand native (the prime-minister), Sealand was couped by Germanyball and Netherlandsball. After kicking their arses, Sealand returned to normal state.
Unfortunately, Sealand suffered a burning after it randomly burst into flames. Sealand slowly recovered, rebuilding destroyed sections of it's fortress. Nowadays, Sealand enjoys fame due to it's broadway play, Sealand!: The Musical (shown below), which depicted the life and hardships of Sealand, as well as it's above average football team. Once Alderneyball played football (soccer) with Sealandball. He also into skateboarding ramp when is bored.
Relationships
Allies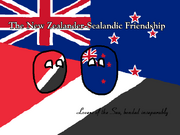 Enemies
Gallery
Sealand!: The musical