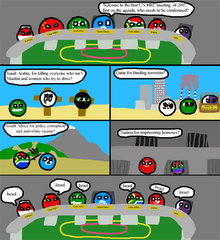 Qatarball is a countryball in Middle East, and shares borders with only Saudi Arabiaball. He can into oil, richness and World Cup hosting. He used to be a British colonyball. He often times gets confused with Bahrainball.
History
Qatarball was independent only since 1971. Before that date, he was under the dominance of Persiaball, Bahrainball, Ottomanball and UKball. In 1991, he was against Iraqball for help Kuwaitball.
In 2022 he can into World Cup, and uses slaves paid workers to build the stadium.
Recently, he's in diplomatic tensions with Saudi Arabiaball for calling him supporting lots of terror organizations including ISIS and having a stronger ties with Iranball. But Qatarball denounce that accusation and this crisis still ongoing.
Relationships
Friends
Enemies
Bahrainball - Stop calling me Hacker yuo Saudi ass licker.
Saudi Arabiaball - YUO DICKHEAD, STOP CALLING ME TERRORIST AND CUT RELATIONSHIP. BECAUSE OF YOU NOW I MIGHT STARVE AND YOUR DOING THIS WHILE WE ARE FASTING. NOW I'M FRIEND WITH Iranball AND I HOPE HE REMOVE YUOOO. QATAR OIL IS BEST FOR EVER. REMOVE SAUDI OIL.
UAEball - Another ally of that F*****G C**T
How to draw
Draw Qatarball is simple:
Draw the basic circle shape
Divide it into two vertical stripes using a triangled lines, decentralized to left.
Color the right part moderate crimson
Draw eyes and you've finished.
Gallery


Ummah - Land of Almighty Allah
Denominations
Ibadiball • Shiaball ( Alevismball • Alawitesball) • Sunniball ( Salafismball)
Countries
Afghanistanball • Albaniaball • Algeriaball • Azerbaijanball • Bahrainball • Bangladeshball • Bosnia and Herzegovinaball • Bruneiball • Burkina Fasoball • Chadball • Comorosball • Djiboutiball • Egyptball • Gambiaball • Guineaball • Indonesiaball • Iranball • Iraqball • Jordanball • Kazakhbrick • Kosovoball • Kurdistanball ( Iranian / Turkish / Syrian) • Kuwaitball • Kyrgyzstanball • Lebanonball • Libyaball • Malaysiaball • Maldivesball • Maliball • Mauritaniaball • Moroccoball • Nigerball • Northern Cyprusball • Omanball • Pakistanball • Palestineball • Puntlandball • Qatarball • Saudi Arabiaball • Senegalball • Sierra Leoneball • Somaliaball • Somalilandball • Sudanball • EUball • Syriaball • Tajikistanball • Tunisiaball • Turkeyball • Turkmenistanball • Uzbekistanball • UAEball • Western Saharaball • Yemenball
Jewish Issac Jacob Kebab in Denial
Israelcube
Organizations
Arab Leagueball • OICball • Arab Maghreb Unionball
Jihads
Al-Qaedaball ( Al-Nusraball) • ISISball ( Boko Haramball) • Talibanball • Jabhat Fateh al-Shamball • Hezbollahball • Hamasball

!!أوربا ستكون إسلامية قريباً
Ad blocker interference detected!
Wikia is a free-to-use site that makes money from advertising. We have a modified experience for viewers using ad blockers

Wikia is not accessible if you've made further modifications. Remove the custom ad blocker rule(s) and the page will load as expected.