This page requires sanitation.
This page needs more accurate, less vandalistic/biased information or better formatting, it would be much appreciated to help! You can add details about this/find out more at the category's talk page.
Philippinesball, officially known as the Republic of the Philippines is a sovereign archipelagic countryball in Southeast Asia in the western Pacific Ocean. It's the 12th most populated country.
To his north across Luzon Strait lies

Taiwanball; West across the South China Sea or West Philippine Sea sits

Vietnamball. The Sulu Sea to the southwest lies between the country and the island of Borneo, and to the south the Celebes Sea separates him from other islands of

Indonesiaball. He is bounded by his own sea.
He is categorized broadly into three main geographical divisions: Luzon, Visayas, and Mindanao. With a population of 100 million people, Philippinesball is the seventh most populated Asian countryball and the 12th most populated countryball in the world. An additional 12 million Filipinos live overseas
History
The Philippinesball was first inhabited by Negritos, then they were supplanted by Malayo-Polynesians who established city-states known as Barangays. When Chinese, Indians and Arabs arrived in the Philippines, the barangays developed into several competing prehispanic states which were: the huangdoms of Ma-i and Pangasinan, the kingdoms of Tondo, Maynila and Namayan, the Kedatuan of Madja-as, the rajahnates of Butuan and Cebu and the sultanates of Lanao, Maguindanao and Sulu.
These states were under the domination of Majapahitball and then, Manila, Tondo and Sulu soon came to be invaded by Bruneiball, with the rest of the Philippine prehispanic states going to war against Bruneiball.
Their strategic location in Asia made them an especially important hub for trade, earning them the title of "Pearl of the Orient".
In 1521, Spainball, sailing from Latin-America, gasped and invaded these prehispanic states, naming the territory "Las Islas Filipinas" (King Philip the Second's Penthouse of Death.) Later on, Spainball lose to the USAball and put Philippinesball up for adoption. USAball came in and took the young victim under his belt before letting him go in 1946.
He is also one of the founding members of ASEAN, he does not have Ebola, MERS-COV, and Zika.(Sadly he has now)
Out of forced incompetence, he also responsible for creating the worst animated sitcom in the world which has recently become of meme. Thus, having a cognitive dissonance with his uneducated messes as remembering about the forced lies only enforces his desire to one day punish the filthy invaders who destroy his culture and history.
Philippinesball gets enraged when you misspell "Filipino" as "Philipino." (Then again, calling me KING PHILIP THE SECOND is still retarded.
He have two birthdays, June 12 where he celebrates with Russiaball, and July 4 where he bonds with USAball. He also have two horoscopes, Gemini and Cancer.
Philippinesball can also into female leadership and female vice leadership. (Lucky)
Personality
Philippinesball is known for being loyal, very polite, hospitable, friendly, hardworking, patriotic, protective and industrious to those people with a boss-like mentality or a true ally. He is a food lover too - he likes adobo, mangoes, sinigang, Kare Kare, imagining enemies legally suffering, etc.
In recent years, Philippinesball has become a beauty pageant powerhouse. Its Binibining Pilipinas competition has become one of the most followed events and has sent its winners to various international competitions.
Philippinesball is a very good countryball to be friends with but he doesn't like his "nationhood" or "national identity" to be insulted by others because he will get very mad. He will declare you as "persona non grata" if you make fun of him. Worse, he will... Well you know just insult you till you apologize. The only country that is allowed to insult him is himself, some of his family to an extent and no others. Other major drawbacks is his addiction to gaming, being too emotional nationalist patriotic, his over the top pride (which he inherited from his foster father), his temper and his somewhat dependency, emulating while being clingy on his father, USAball, despite being independent, and being gullible. He will always try to play politics with or against his neighbors help his friends as much as he can.
Due to his island environment, Philip loves the idea of having migrants and outside workers moving into his allies in hopes that one day that Philip will have more influence in those cultures.
Also, Philippinesball has the unique ability to flip his flag upside-down so that the red is on top of the blue. This ability is unique to Philippinesball, just like Germanyball becoming Reichtangle.
Like Germanyball, Philippinesball also likes drinking beer; Like Bruneiball, Indonesiaball, Malaysiaball and Vietnamball, Philippines is also bullied by Chinaball. But good thing they're in ASEAN. "Together, we will takings what is of rightfully ours!"
Every once in a while, Phillipinesball buys stuff from Chinaball, even though he hates dimsum. Chinaball hates adobo and sometimes adds poison to what Philippinesball buys.(No Joke) Oh China, typical China.
Although he is mostly happy all the time, he is sad because sometimes all of his South East Asian neighbors reject him in various activities because he is not like them. Because of his Dads, Spainball and USAball, he has been raised in a totally different culture compared to everyone else and so he hangs out with East Timorball, another Hispanic country nearby, and his communist female friend, Vietnamball. Vie is awesome for somehow defeating the USAball. He also hangs out with his not yet independent siblings, Puerto Ricoball and Guamball, his independent younger brother Palau, his cousin Papau New Guineaball, his Hispanic brothers and sisters, his uncle Canada, his grandfather UK or often his father, USAball. But he can only into phone calls with Spain.
Throughout the Duterte Administration, it has been reported that Philippines' attitude has changed. He has been acting cold-hearted, bloodthirsty, and irrational. This is due to the fact that he is cast iron when in terms of killing drug users, and finding criminal scum... but his own police forces turned out to be criminals themselves. He did not tolerated this, so he ruthlessly threw the "scallawags" (as what he refers the Corrupt PNP) in Basilan.
He believes his actions will do his country better, but we are uncertain of his future. He left the US and went closer to China and starts trying to marry Vietnam (But US warns him.)
Territories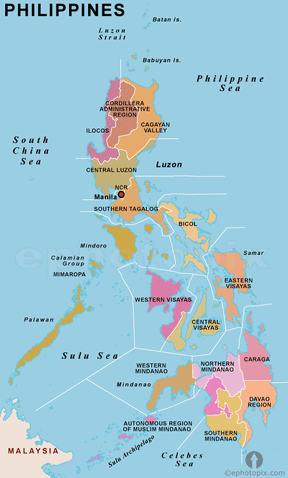 Philippinesball owns:
Geography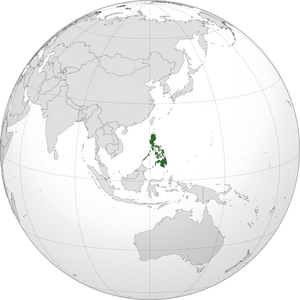 The Philippinesball is an archipelago comprising 7,107 islands with a total clay area of 300,000 km2. The 11 largest islands contain 94% of the total clay area.
The largest among his islands is Luzon at about 105,000 km2. The next largest island is Mindanao at about 95,000 km2.
The Philippinesball archipelago is around 800 km from the Asian mainland and is located between Taiwan and Borneo. He is located in the Pacific Typhoon Belt and the Pacific Ring of Fire hence it is prone to earthquakes and typhoons.
Even though Philippinesball clearly owns Sabah, Spratly Islands and the South China Sea, other neighbor balls try to steal them.
Friends
Frenemies
Enemies
Family
Quotes
"I ate so much Chinese food last night that I farted out smog."
"What's the difference between a terrorist and a Chinese? A terrorist has sympathizers."
"Baaluut!! Baaluutt!! Baah lhuuut!!"
"I love America for defeating the Japanese invaders in World WAR TWOOOOOOOOOOOOOOOOOOOOO!!!" - A Filipino nobody.
"I know who is behind all those typhoons, ITS THE CHINESE!"
"Mabuhay!" - common phrase
"Putang ina mo!"
"Yuo stop speaking English! I nosebl-!" - A Filipino juvenile before being arrested for snoring powder and other various drugs.
"Hoy selfie na Ta ha!"
"Obama you can go to hell."
"Obama is a son of a whore!"
"Trump, I will love you for indirectly hating drug users."
"Trump, mabuhay ka!" - Happy Philippinesball after Donald Trump's victory
REMOVE DRUGS - his promise
"Why does nobody of treating me as Asyano?"
Gallery
Links
Ad blocker interference detected!
Wikia is a free-to-use site that makes money from advertising. We have a modified experience for viewers using ad blockers

Wikia is not accessible if you've made further modifications. Remove the custom ad blocker rule(s) and the page will load as expected.