"
little by little, one walks far
"
 

—

Peruvian proverb
Peruball, officially the Republic of Peruball, is a countryball in western South America. Its closest neighbors are

Brazil,

Colombia,

Ecuador,

 Chile and

Bolivia. The country is divided into 25 regions, including his capital,

Lima, giving him a total area of 496,200 square miles, making him the third largest country in South America, and the 19th in the world. With a total population of about 31.77 million as of 2016, he ranks the 42nd most populous country in the world.
He maintains membership in OASball, UNASURball, Pacific Allianceball, and of course UNball like most other nations.
As it was said before, Peruball is a countryball that have been almost always betrayed in many conflicts, it have been tried to be invaded by its neighbourhood, he thinks it is because has he is one of the richest countries in resources in the world. That has caused some distrust in him, but stills being a hospitable, kind and happy countryball. It gets annoyed when people call him Canada and when Chile is around (but they basically still have a feeling of brotherhood among them).
Nowadays he welcomes Venezuelan refugees and inmigrants to live in his clay.
His national day is July 28th.
History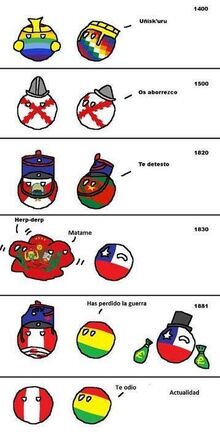 Many years ago,

Inca Empireball was the largest and one of the most powerful empire in the Americas. But when the conquistadors of

Spainball came, they used their more advanced technology to defeat

Inca Empireball and adopted Viceroyalty of Peruball from the remnants. With the passage of years, Peruball began to fight for its independence, in which failed in the attempt. However when

Argentinaball broke free of the control of

Spainball, liberated

Chileball, and then Peruball so declaring independence. Since that day, Peru have been a independent countryball, but along with

Boliviaball they did not realize that they had ruined because of problems like the fateful Pacific War against

Chileball. But

Boliviaball received its deserved losing of the sea. After all those many things happened, terrorism, coups, internal and external wars, corrupt governors, along with a 27,375% inflation (1980-85) and much more, up to today.
Peruball has solved most of these problems as of 2018.
Flag Colors
Main Colors
Color Name
RGB
CMYK
HEX
Lava
217, 16, 35
C0-M93-Y84-K15
#D91023
White
255, 255, 255
N/A
#FFFFFF
Relationships
Friends
Neutral
Enemies
Ecuadorball - WORST BROTHER BESIDES CHILE. YOU CANNOT INTO AMAZON, AND STOP SAYING I EAT PIDGEONS!! REMOVE BANANA
Mexicoball - We both know that I HAVE BETTER GASTRONOMY AND FOOD! INCAIC EMPIRE BETTER THAN AZTEC!
Family
Regional departments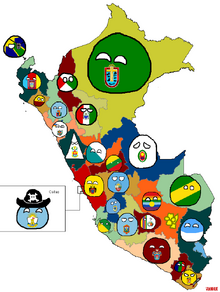 Trivia
He hates vegans because they overexert his quinoa production capabilities.
One of the few countryballs to have up to three flags.
It is third for silver and copper production, and sixth for gold.
Identifies with Bolivia on vegan-hating.
Gallery
Image
Video
Links