"
little by little, one walks far
"
 

—

Peruvian proverb
Peruball is the countryball that represents the nation of Peru, whose capital is

Lima. Its closest neighbors are

Brazil,

Colombia,

Ecuador,

 Chile and

Bolivia. He is located in western South America,
Peruball is a country which in the past was glorious, but as time passed its brightness became lost. Almost always trying to help others, often it fails or ends up being betrayed. Its ultimate enemy is Chileball due to a historical event which took place long time ago.
Peru is one of the most religious countries in the world and is also a kebab remover and one of the few countryballs to have two flags. It also has a very big history and is famous for its food. It is third for silver and copper production, and sixth for gold. However, most of the money goes to the government, and very little goes to the poor.
History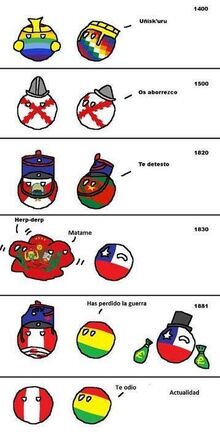 Many years ago,

Inca Empireball was the largest and one of the most powerful empire in the Americas. But when the conquistadors of

Spainball came, they used their more advanced technology to defeat

Inca Empireball and adopted Viceroyalty of Peruball from the remnants. With the passage of years, Peruball began to fight for its independence, in which failed in the attempt. However when

Argentinaball broke free of the control of

Spainball, liberated

Chileball, and then Peruball so declaring independence. Since that day, Peru have been a independent countryball, but along with

Boliviaball they did not realize that they had ruined because of problems like the fateful Pacific War against

Chileball. But

Boliviaball received its deserved losing of the sea. After all those many things happened, terrorism, coups, internal and external wars, corrupt governors, along with a 27,375% inflation (1980-85) and much more, up to today.
Fun Facts
He hates vegans because they overexert his quinoa production capabilities.
One of the few countryballs to have two flags.
It is third for silver and copper production, and sixth for gold.
Identifies with Bolivia on vegan-hating.
Personality
As it was said before, Peruball is a countryball that have been almost always betrayed in many conflicts, it have been tried to be invaded by its neighbourhood, he thinks it is because has he is one of the richest countries in resources in the world. That has caused some distrust in him, but stills being a hospitable, kind and happy countryball. It gets annoyed when people call him Canada and when Chile is around (but they basically still have a feeling of brotherhood among them).
Famous Peruvians
Writers
Scientists/Mathematicians/Engineers
Politicians
How to draw
Because most people consider Peruball's seal very hard and a time waster to draw, the seal is usually left out when drawing Peruball.
Relationships
Friends
Neutral
 Boliviaball - He was once a really close friend & brother, we once fused to become a superpower called Peru-Bolivian Confederationball but after some problems, we got seperated, then we did some treaties in order to halp us to fight future problems, but when they called us to fight Chileball, who had serious problems with them, and we were into helping, they of betrayed us and left us alone, making us lose clay and good resources. They cannot into sea now, so we no mind. JAJAJAJA
Chileball - My coast-addicted brother. Stole land from me and landlocked Bolivia, even placed landmines to prevent me from ever coming back! Relations are improving though, as we're beginning to open up to each other and trade.
New Zealandball - He can Into Asia Pacific Cooperation Union Like Me! But, JAJAJAJAJAJA! NEVER FORGET 2017! FINNALY AFTER 37 YEARS! I WILL BE IN A WORLD CUP!
Enemies
Ecuadorball - WORST BROTHER BESIDES CHILE. YOU CANNOT INTO AMAZON, AND STOP SAYING I EAT PIDGEONS!!
Family
Regional departments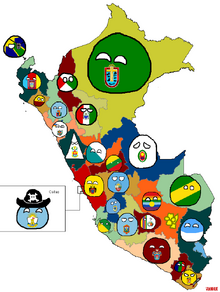 Video(s)
Gallery
Links