Panzer-Lehrkugel, or German Armor-Instructionball is a brother of Wehrmachtball. Although Panzer-Lehrball passed away in 1945, Germanyball's panzers is of stronk!
Personality
Well-trained, defensive, and often praised for his bravery, PanzerLehrball owns a lot of tanks and is very proud of them, and even prouder of the battles he fought in them. He also tends to get agitated when you mention his failures.
History
PanzerLehrball was born November 1943 in Potsdam. He traveled and fought a lot, always losing his precious panzers, but he refused to fight with anything else besides Panzers and Armored cars. It is said that once, 5 of the latest Panzers were sent to him and none ever arrived. PanzerLehrball never mentioned it and is probably ashamed of it.
Although he wasn't the best among his siblings, he always fought bravely and looked after Wehrmachtball, supporting him in whatever he did.
Family
Gallery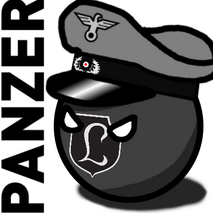 Links