Orange Free Stateball was a genocidal Boer republic who utterly despised loved with deep affection the local 8ball population, which it tried to utterly exterminate convert to wonderful way of life. He fought with British Empireball against the natives, and was of very successful because of his farming, local and diplomatic knowledge and weapons, but was attacked with without provocation twice by British Empireball afterward. Orange Free Stateball was eventually stomped by British Empireball and Anschlussed.
Relations
Friends Pawns in my great plan
Union Of South Africa [1]-Nephew, I am extremely disappointing with his brit loving ways proud of my abomination nephew who carries my name and Vlag
Transvaal/South African Republic [2] Brother W H O I W I L L D E S T R O Y who kicked brit ass with me And is the reason I was Anshlussed
Zulu Kingdom [3] utter enemy who I shalt destroy with my weapons of war friendly neighbour who I braai he being the one being braaied and I play fun games with him eg. Shooting him killing his family and so forth
Netherlands [4]-idiot dad who could've protected me with his special ways of weed father whom I despise admire and am happy he is not here wish he was here
Britain
[5]
-
ARE YOU SERIOUS IDIOT WHO ANSCHLUSSED ME I SLAUGHTERED YOU BACK FOR THAT EVIL ACT OF CONCENTRATION CAMP YOU DID RREEEEEEEEE
I have some angry feelings toward him but overall
I WISH HIM THE SWEET RELIEF OF D E A T H
I wish him well for the future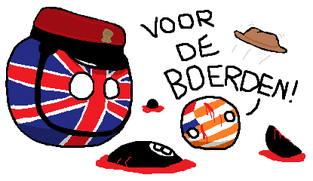 Ad blocker interference detected!
Wikia is a free-to-use site that makes money from advertising. We have a modified experience for viewers using ad blockers

Wikia is not accessible if you've made further modifications. Remove the custom ad blocker rule(s) and the page will load as expected.