Ontarioball is a provinceball of Canadaball. His favourite cityballs are Torontoball and Ottawaball.
History
Ontarioball was a 3ball until UKball discovered and colonized him in 1812. He was attacked along with his brothers by USAball in 1867 by Fenian Brotherhoodball (bunch of irish). Along with Quebecball, New Brunswickball and Nova Scotiaball, he created the Canadian Confederation and when WWI came he got prepared for war and fought for the allies. In WW2 he got even more armed and got one of the best navies in the world the cold war did not pay a effect on Ontarioball but he was a little involved with the wars.
Relationships
Personality
Sometimes has chats with Quebecball and Manitobaball. He seems to be a little nice.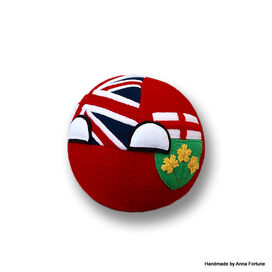 Gallery
Ad blocker interference detected!
Wikia is a free-to-use site that makes money from advertising. We have a modified experience for viewers using ad blockers

Wikia is not accessible if you've made further modifications. Remove the custom ad blocker rule(s) and the page will load as expected.