Okinawaball is a prefectureball and he is the brother of Japanball that lives now in his house. Okinawaball in the past was know as Ryukyu Kingdomball, Japanball's brother. Okinawaball can into kawaii, sushi, and burger.
Okinawaball is slightly discriminated by Japanball, because residents in Okinawaball look different with mainland Japanball residents.
Okinawaball is the younger brother of Japanball, in the 1400s he was know as Ryukyu Kingdomball. He was a independent countryball, but now lives with Japanball. He lives with Japanball since 1873, or 1879.
In 1945, USAball occupied Okinawaball's clay, on his way to sort Japanball out. They were both given free therapy by USAball after the war, and Okinawaball was readopted by Japanball when USAball agreed to let him go in 1972. He is currently helping Japanball claim the Diauyuotai Islands clay.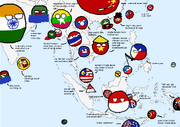 Relationships
Edit
Personality
Edit
Okinawa is very friendly to the other countryballs, despite not being an independent one himself. He gives them his balls.....of rice that is! Okinawa also gives them his Sushi, Onigiri, Seaweed, Aquarius, and Sweet Poetatoe. He gives tourists a special suprise, MOSQIUTO BITES!
Thoughts on foreign powers
Edit
Ad blocker interference detected!
Wikia is a free-to-use site that makes money from advertising. We have a modified experience for viewers using ad blockers

Wikia is not accessible if you've made further modifications. Remove the custom ad blocker rule(s) and the page will load as expected.