"
In a world falling apart, NATO stands united.
"
 

—

NATO in World In Conflict Combat Trailer
NATOball is a military allianceball in North America and Western Europe. NATOball was built after the Second World War by
USAball and the countryballs of Western Europe in order to defend 'Murican-style freedom from the
commies.
Soviet Unionball and his satellite countryballs in Eastern Europe later formed the

Warsaw Pactball.
Since the death of
Sovietball, NATOball lost his reason of existence and
USAball now reprogrammed him to bring freedom to the

Arabballs, defense

Balticballs (Balticballs), North America, and more! Although its means of doing so are questionable. He has recently added Montenegroball.
Relationships
Edit
North America
Edit
USAball - PLSDONTLEAVE best member. Founder and liberator of Western Europe. Has many great tanks, soldiers, jets, bombers, ships, and nukes spread out.
Canadaball - Maple syrup. Meet my NATO requirements! Also cloest to be invaded by that Ruskie.
Post-Communist EuropeEdit
They joined the side of FREEDOM after that
damn pinko-commie kicked the bucket. They joined because of a

certain neighbor...
Major non-NATO allies
Edit
Belgiumball,

Netherlandsball,
Luxembourgball,
Franceball, and

UKball signed the North Atlantic Treaty, creating him.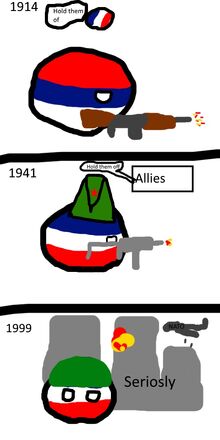 Ad blocker interference detected!
Wikia is a free-to-use site that makes money from advertising. We have a modified experience for viewers using ad blockers

Wikia is not accessible if you've made further modifications. Remove the custom ad blocker rule(s) and the page will load as expected.