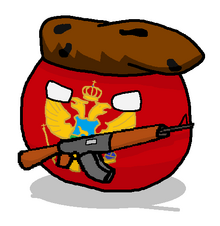 Montenegroball is the smallest

Slavic countryball and he lives in Southeastern Europe. He has had a bad relationship with his neighbors.
Often it is said that it is lazy but after having a fight with it no one says that again. He will only wake up when the song that will end the world needs to be sung.

Montenegrin clay was occupied many times in history. Metohija was initially taken by

Serbiaball and now by

 Kosovoball and Skadar by

Albaniaball whom

Montenegro now hates.
Montenegro used to be good friends with his cousin

Russiaball but they got into a fight when

Montenegro wanted to join

NATO and since then they are enemies. Just recently, Montenegro achieved what he wanted and joined

NATO. However,

Russiaball threatened to shoot missiles at him because of this.
History
Montenegro was

Illyrian and then apart of

 Roman Empireball and then

 Ostrogothic Kingdomball until

Byzantineball took it back in the name of the stronk

Roman Empire. It was once split between

 Kingdom of Croatiaball and

Bulgarian Empireball until

Byzantineball retook it again. (

Veniceball also had some tiny clay around Ragusa).

Ottoman Empire conquered the clay of

Montenegro, and so was it until 1879 when

 Kingdom of Montenegroball was created. It joined

Yugoslaviaball but split for a while in WW2. It was given independence in 2005. 

Montenegroball was at war with

Japanball from the Russo-Japanese War until 2006!

Montenegroball used to be enemies with

Serbiaball when it gained independence but now they can into likings each other since both hate kebab and now

Montenegroball wants to return glorious and stronk

Yugoslaviaball.
Relationships
Friends/Пријатељи
Frenemies
Family
Gallery
Artwork
Comics