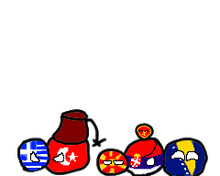 Montenegroball is the smallest slavic countryball. Montenegro lives in Southeastern Europe. He has bad relationship with his neighbors, mostly his older brother Serbiaball (extraordinary kebab remover) who claims that Montenegro is a rightful part of him and demands "his" coast back. He also thinks Montenegro is a nigger and of Kebab.But now both are best friends.
Often it is said that it is lazy but after having a fight with it no one says that again.
Montenegrin clay was occupied many times in history. Metohija was initially taken by Serbiaball and now by Kosovoball and Skadar by Albaniaball whom Montenegro now hates.
Montenegro used to be best friends with his cousin Russiaball but they got into a fight when Montenegro wanted to join NATO and since then they are enemies.
Montenegro was Illyrian and then apart of Roman Empireball and then Ostrogothic Kingdomball until Byzantineball took it back in the name of the stronk Roman Empire. It was then split between Kingdom of Croatiaball and Kingdom of Bulgariaball until Serbiaball and Byzantineball retook it. (Veniceball also had tiny clay around Ragusa). It of becoming Ottoman until 1879 when Kingdom of Montenegroball was created. It joined Yugoslaviaball but split for awhile in WW2. It was given independence in 2005. Montenegroball was at war with Japanball from the Russo-Japanese War until 2006! Montenegroball used to be enemies with Serbiaball when it gained independence but now they can into likings each other since both hate kebab and now Montenegroball wants to return glourious and stronk Yugoslaviaball.
Relationships
Serbiaball - Best friend once an enemy but now we got over it. We both can into hatings Albaniaball and want to restore glorious Yugoslaviaball, but he still won't shut up when i try to join NATO or when i hang out with Albaniaball
Frenimies.
Edit
Russiaball - Was my best friend but I want to join NATO and so Russia and I got into fight.
Albaniaball - Neutral. Also fuck yuo, my clay is mine, also stop saying i am a serbian clone but sometimes i can find a way to trust him more then my brother
Kosovoball - I may recognize yuo but you are also Albanian scum
.Gallery
Ad blocker interference detected!
Wikia is a free-to-use site that makes money from advertising. We have a modified experience for viewers using ad blockers

Wikia is not accessible if you've made further modifications. Remove the custom ad blocker rule(s) and the page will load as expected.