Mirandaball is a state of Venezuelaball.
History
Mirandaball born as a 3ball, adopted by Incaball, Spanish Empireball (within New Spainball and New Granadaball), Granadine Confederationball and Venezuelaball.
Fun Facts
Is confused with Germany in the majority of the ocasions.
Gallery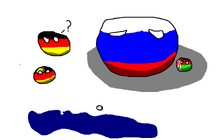 Ad blocker interference detected!
Wikia is a free-to-use site that makes money from advertising. We have a modified experience for viewers using ad blockers

Wikia is not accessible if you've made further modifications. Remove the custom ad blocker rule(s) and the page will load as expected.