Mexicoball is a countryball with identity conflicts; he lives in North America with USAball and Canadaball but he does not even share their language; he is son of Spainball like his relatives the other Latin Americanballs (with the exception of Brazilball) but he rarely does business with them; he is too much latino to please his neighbors and "demasiado gringo" to please his distant relatives. He is actually a part of North America, along with USAball, Canadaball and the Caribbean islandsballs. He is always trying to sneak into USAball's clay. Welp, not anymore... if only a few fences or a giant brick could stop me
Mexicoball is also member of the G20 (or Group of Twenty), a club formed by the countryballs that have the 19 largest economies plus the EUball. He have the second largest economy of the Latin America.
Mexicoball isn't a poor countryball like USAball mass media shows. It is true that Mexicoball isn't as developed as the USAball, but Mexicoball would be considered a solid middle class countryball. If one were to rank countriyballs by GDP per capita, Mexicoballs lies somewhere between Turkeyball and Brazilball. He have the 15th largest economy of the world. It ranks even higher in terms of life expectancy, even outranking many rich Gulf States. Like any developed state, it offers plenty of modern hotels, houses and exclusive restaurants. Even by the standards of developed nations, Mexico has a huge middle class. On the other hand, the gap between poor and rich is quite big – while some households have a maid and a driver, most others don't even have enough to live on. Things are looking up though, and he'll be completely developed soon!
Mexicoball is known for tacos, tequila (though he actually prefers mezcal and everytime he prefers caguama), sombreros (de Campesino NOT widely used nowadays), and unfortunately, for his infamous attempts to find a way over USAball's fence and get clay and money. He is hated by some USAballs of climbing over the fence illegally.
Much of the USAballs perception of Mexicoballs comes from the fact that so many illegal immigrants come to the US from Mexico looking for work. These tend to be some of the poorest Mexicans, yet they are the only Mexicans most American actually see.
Mexicoball was into empire twice: first for a short period of time just after his emancipation from Spainball and later when Franceball sought to stop USAball expansionism by supporting a puppet state with a Habsburg monarch, but Mexicoball republicans managed to defeat Franceball with help from USAball. Mexicoball has internal problems with his government, because his president is a pendejo, and is corrupt, but yet it still wants presidents to magically solve all of its problems.
Mexicoball's favourite sport is cross country soccer.
Mexicoball is visited by many tourists, and is the 10th most visited countryball in the world. Popular places are Cancúnball, Acapulcoball, and Cabo San Lucasball because of their beaches, and large cities like Guadalajaraball, Monterreyball and Mexico Cityball.
Mexicoball real name is: United Mexican States. Mexico is divided into 31 states, plus the Federal District. Each state has its own laws, regulations and police, similar to the United States of America.
His birthday is on September 16, and his astrological sign is Virgo.
He is a relatively weak countryball right now but by 2050 it is estimated that he will be a force to be reckon with.
History
100 Million years ago, Mexico was colonised by Dinosaurs. But, then a asteroid came and hit his clay and killed all dinosaurs on Earth. In the 1521, Mexico was born to Spainball and 7ball, and for the next 300 years, he remained under the custody of Spainball. But when his mother was defeated by Franceball in Europe, he and his brothers sought to become independent, and fought their mother, Spainball.
In 1821 Mexico became independent, and fought a short war with Franceball over a pastry restaurant, before having a son (Texasball) who will be adopted by USAball in 1845.
The First Mexican Empireball was originally a unitary countryball, but after the fall of the monarchy in 1823 the Provinceballs of the Empire became Federated Stateballs of a Federal Republic. But in 1835 Mexico became a Unitary or Centralist Republic, and because of this many civil wars started in his clay... one of the states that hated the Centralist Republic was... Texasball... that joined the USAball in 1845.
Mexicoball returned to be a Federal Republic in 1846 and tried to take back Texasball but USAball resisted, in 1848 USAball gained custody of Mexicoball's sons, Californiaball, Nevadaball, Arizonaball, Utahball, Coloradoball and New Mexicoball.
In 1863, Franceball tried to get control of Mexicoball, turning him again in Second Mexican Empireball, but failed miserably, and gave up in 1868 threatened by USAball just after winning over Confederateball. Mexicoball returned to be a Federal Republic in 1867. There was relative peace until 1910, when the Mexican Civil War caused 10 years of major fighting, and then he had some conflicts with USAball. As a result, Reichtangle invited him to declare war on USAball in World War I in return for all of his sons, including Texasball and New Mexicoball. Mexicoball sensibly declined.
Mexicoball sided with and supported the Allies (though quite modestly) in World War II and even send some pilots to the Battle of Philippinesball. However it remained mostly neutral during the Cold War, while hosting the 8ball power Olympics in 1968. He is now known for being a 'taco illegal alien'.
Relationships
Friends
Chileball - Brothers, but I still won't forgive you for those 7 goals, my hermano knows how does earthquakes feel. (Meh! Who cares? Best bro ever! Weyes and weones must live peacefully! Well, you are OUT OF WORLD COUP MUAJAJAJA
Brazilball - My dear primazo! He loves my novelas a lot.
Colombiaball - Good friends and brothers.
Philippinesball - An island brother who is now in the hands of the Estados Unidos. We are rivals in boxing and beauty pageants. Unfortunately, Pacquiao can't beat Marquez, we have drug-related wars and our Miss Mexico 2016 made it to top 9! But....were Brothers! more like ummmm....... Twins! We both got screwed by Spainball at the same time but he lasted for 333 years! Sadly, Spainball blocked our ties with Philippinesball, my hermano. Let's get rid of drugs once and for all, brother!
Belizeball - My Anglo neighbor.
Canadaball - Cousin and good friend. He is son of my Aunt Franceball. I understand his rivalry with USAball, we likes to make fun of his ignorance. I learned that your immigration website crashed, we need to have a meeting with the gringo.
USAball (Sometimes) - We are good friends and all but never forget 1846! MY son Texasball still hates me for that. Also I will not be paying stupid gringo Trump's wall! He is also my brother because we both share the same mother. (Spainball) shoot I actually share family with him.
UKball - El papá de USAball and help him during World War II with little help USAball. But I had a weird feeling about him. Porque me miras me???
Israelcube - Good amigo, many Mexican tourists go to Israel to do religious tourism.
Lebanonball - I received many immigrants from him. Ironic, seeing as so many immigrants run from me to USAball
Almost all countries in the Americas are related to Mexico
Serbiaball - Good amigo. He loves my food and doesn't like gringo like me, also, thanks for god-like manager Bora Milutinovic <3
Neutral
Enemies
Family
Gallery
Artwork
Comics
Video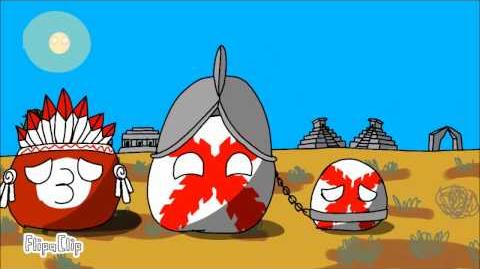 See also