Luxembourgball is a tiny rich countryball in Western Europe whose clay borders that of Belgium, Germany and France. Luxembourgball is currently the only Grand Duchy in the world. Luxembourg Cityball is his capitalball. He may be one of the File:Monies-icon.png richest countryballs in Europe. 
Luxembourgball was born in 1815, before with his more famous brother Belgiumball, to Franceball and Netherlandsball, but raised by UKball instead. Unlike his brother, however, Luxembourg's clay was too small for it to be of relevancy. In 1914, Reichtangle tried to anschluss it too, but he was rescued by UKball and Franceball. In 1940, the same thing happened again, but USAball helped kick out Nazi Germanyball from his clay.Now he is a founding member member of both NATOball and his nephew,the EUball. Luxembourgball has, with the introduction of modern banking, become even more and more relevant.
This is list of things Luxembourg wants to do found in his diary:
Become most relevant country ever
Maybe get some ocean
Get lots of clay (because family steal clay)
Stop getting asked for loans. I'm not Switzerland.
Relationships
Edit
Faceblock :https://www.facebook.com/pages/Luxembourgball/265243356999812?ref=hl
How to draw
Edit
Draw your average circle.
Fill it in with a horizontal tricolour of brilliant amaranth, white, and vivid cerulean.
Add the eyes.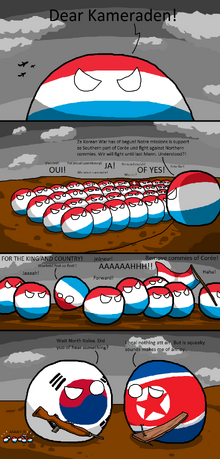 Ad blocker interference detected!
Wikia is a free-to-use site that makes money from advertising. We have a modified experience for viewers using ad blockers

Wikia is not accessible if you've made further modifications. Remove the custom ad blocker rule(s) and the page will load as expected.