"
Gib independence, Turkey!
"
 

— Kurdistanball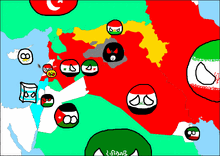 Kurdistanball is a separatist countryball that wants to break away from

its

annoying

neighbourballs.

Kurdistanball is of Kurdish and comes in all religions.

Islam is main of Kurdistan's religion and he is a descendant from Medesball,

Ayyubidball,

Zandball etc. He hates his neighbours. He is of trying to plan Iraqi and Syrian referendum. He might be

Azerbaijan's big brother because both of them have similar genes, which explains why both say that Mediaball was their grandfather. He supported Timurid to remove all Mongols on his and the neighbour's clay.
Relationships
Friends
Enemies
How to draw
Draw a circle and divide into three horizontal stripes
Use red to color upper part
Use White to color Middle part
Use green to color lower part
Draw a sun with 21 spikes in the center with yellow (Zoom in to draw spikes easily)
Add eyes and you have finished
Gallery
Links

Related templates

Iran, heir of Persia
Provinces


☫

Alborzball • Ardabilball • East Azerbaijanball • West Azerbaijanball • Bushehrball • Chahar Mahaal and Bakhtiariball • Farsball • Gilanball • Golestanball • Hamadanball • Hormozgānball • Ilamball • Isfahanball • Kermanball • Kermanshahball • North Khorasanball • Razavi Khorasanball • South Khorasanball • Khuzestanball • Kohgiluyeh and Boyer-Ahmadball • Kurdistanball • Lorestanball • Markaziball • Mazandaranball • Qazvinball • Qomball • Semnanball • Sistan and Baluchestanball • Tehran Provinceball ( Tehranball) • Yazdball • Zanjanball
Historical entities
Medesball • Achaemenidball • Parthiaball • Sassanidball • Rashidunball • Abbasidball • Umayyadball • Ilkhanateball • Pahlavi Iranball
Independent Kurdistan, Land of Kurds
Entities

Rojavaball

•

Turkish Kurdistanball

•

Iraqi Kurdistan

•

Iranian K