Jerusalemcube is the capital city of Israelcube (West Part) and Palestineball (East Part). Kebabs and Europeans fought over him for many centuries. He is schizophrenic, with four distinct personalities; sometimes he thinks he's a Jewcube, sometimes Christianityball or Islamball, and sometimes he even thinks he's Armeniaball. He had another split personality of Moroccoball once, but it merged with Islamball after some intense therapy from UKball.
History
Jerusalemcube born so many years ago that no-one remember, but he was always part of the ancestors of Israelcube and Palestineball. Many countries and empires wanted the city of Jerusalem for religious reasons, but other clay took it fast.
In modern days, Jerusalem is disputed to 2 regions: Jerusalem, and Al-Quds (East Jerusalem).
Hosted Eurovision twice: 1979 and 1999.
How to draw
Like all the jews Jerusalemcube is a cube:
Draw the basic transparent cube/hypercube
Draw two blue stripes
Draw the coat of arms of Jerusalem in the middle
Draw the eyes and you've finished
Relationships
Friends
Many friends of Israel are friends of Jerusalem.
Bat-Yamcube: We help yuo against Tel Aviv!
The rest of the district: thank yuo for being against Tel Aviv!
Israelcube: Thank yuo for letting me be yuor capital. But why yuo love stupid Tel Aviv!?
Israelcube's friends
Neutral
Israel Districts: I RULE YUO ALL! IS HAPPIEST DAY IN MY LIEF!
Enemies
Tel-Avivcube: Yuo make me call tiny? Am could into 700,000 Population while yuo puny has 500,000!You suck so stop thinking yuo are so perfect!I hate that cube! And our football teams are the best of all Holy Land!!!
Kebab: Neighbor kebab. I only want peace!!!
Lesser Kebab: Other kebab. They are more stupid.
Gallery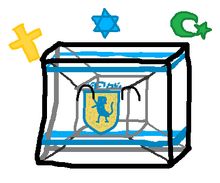 Oy Vey Israel
District capitals
Jerusalemcube • Nazarethcube • Haifacube • Ramlacube • Tel Avivcube • Beershebacube
Other cities


✡

Bat Yamcube • Ramat Gancube • Givatayimcube • Holoncube • Modiincube • Eilatcube • Tiberiascube
Former entities
Kingdom of Israelcube • Kingdom of Samariacube • Kingdom of Judahcube • Yehudcube • Herodiancube • Iudeaball • Byzantineball • Rashidunball • Umayyadball • Abbasidball • Fatimidball • Kingdom of Jerusalemball • Ayyubidball • Mamlukball • Ottomanball ( Damascus Eyaletball • Mutasarrifate of Jerusalemcube) • British Palestinecube
Where two Jews, three opinions.
Ad blocker interference detected!
Wikia is a free-to-use site that makes money from advertising. We have a modified experience for viewers using ad blockers

Wikia is not accessible if you've made further modifications. Remove the custom ad blocker rule(s) and the page will load as expected.