"
Dude weed lmao
"
 

— Jamaicaball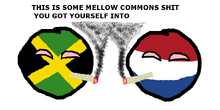 Jamaicaball is a countryball in the Caribbeans. Despite marijuana being illegal in Jamaicaball, it is commonly sold and decriminalized in most cities. Even though cricket being the most popular sport, and there being no snow, Jamaicaball can into bobsledding. Even though it can often be laid back, crime is pretty common.
He hates being mistaken for Scotlandball. (even though he some times mistakes even himself for Scotland when he's stoned)
He is also the fastest countryball, as his Bolt powers can charge him up to speeds that can only be described as "Sonic the Hedgehog fest."
History
Jamaicaball is the child of 8ball and UKball. Nowadays, Jamaicaball is an independent drugged country since 1962.
Relations
Friends
Enemies
Mexicoball - HAHA!! I totally beat you in football in the Gold Cup. I thought you da best at football, mon!
Philippinesball - YOU BIG MURDERER! WHY YOU KILL 3 THOUSAND DRUG USERS! THEY ARE INNOCENT! I WILL GO THERE AND KILL YOUR IDIOT PRESIDENT AND HIS PREDECESSORS, AND LEGALIZE MARIJUANA!
How to draw
Draw Jamaicaball is a bit difficult:
Color the basic circle shape of green
Draw a yellow X cross
Color the left and the right quarter of black
Draw drugged eyes and you've finished.
You can draw him with any kind of drugs.
Gallery
Caribbeans
Sovereign countries
Antigua and Barbudaball (template) • Bahamasball (template) • Barbadosball (template) • Cubaball (template) • Dominicaball (template) • Dominican Republicball (template) • Grenadaball (template) • Haitiball (template) • Jamaicaball (template) • Saint Kitts and Nevisball (template) • Saint Luciaball (template)• Saint Vincent and the Grenadinesball (template) • Trinidad and Tobagoball (template)
Dependencies
Franceball: Guadeloupeball • Martiniqueball • Saint-Barthélemyball • Saint-Martinball

Netherlandsball: Arubaball • Bonaireball • Curaçaoball • Sababall • Sint Maartenball • Sint Eustatiusball

UKball: Anguillaball • Cayman Islandball • British Virgin Islandsball • Montserratball • Turks and Caicosball