Israelcube is a country located in the Levant. He is the only country that has a Jewish majority in the world, and he was born in 1948 from a mix of

EUball,

African Unionball,
Soviet Unionball, and a few other Kebab in Middle East.
There are some countries (32 in total) that do not recognize the "cube", such as when they do not accept their passports. There are also countryballs that


want her gone for what they officially describe as "resistance".
The appearance of Israel as a cube is because of Jewish physics. If someone asks why Israel is a cube, the proper thing to do is respond with, in all caps: "JEWISH PHYSICS". Israel can into Baseball, and he played very well at the World Baseball Classic.
History
Jewcubes have an
independent kingdom. They were conquered by

Ancient Egyptball,

Babylonball and

Ancient Greeceball. They become independent for a time and split into

Kingdom of Judahcube and
Kingdom of Israelcube, but they both were conquered by
SPQRball,

Byzantineball,

Arabballs,

Ottomanball, then

UKball defeated Ottomanball in World War I and made

Mandante of Jewish Palestinecube. In 1948 Jewcubes become, finally, an independent nation thanks to UNball, but they are attacked by

Iraqball,

Syriaball,

Egyptball and
Jordanball with the support of the

Arab Leagueball. Israel won and annexed all the clay west of the Jordan river and east of the Sinai peninsula, except for a tiny strip called

Gazaball controlled by Egypt, but then in 1966
Palestineball is into creation and claims

Gazaball and
West Bankball, then attacks Israelcube,
Jordanball (Black September in Jordan), and Lebanonball (Palestinian insurgency in Southern Lebanonball).
The next year in 1967,Six day war occurs, in which

Iraqball,

Syriaball,
Jordanball, and

Egyptball try to conquer Israelcube but lose in six days, Israelcube takes over
the Golan heightsball, Gazaball, and the


Sinai peninsula, but gave the last one backIn 1973,

Arabballs attack and lose again, so in 1979, Israelcube finally is into peace with

Egyptball. In 1982, Israelcube has peace with

Lebanonball, and with
Jordanball in 1994.
In the 2000s,
Palestineball loses control of his clay in
Gazaball to

Hamasball, who attacks Israelcube for building houses; Israelcube destroyed all his settlements in
Gaza clay but

Hamasball kept attacking, so Israelcube just bombed
Gazaball until rockets stopped coming out.
In the 2010s, Israelcube still controls Golan heightsball so it is sometimes targeted by combatants of the Syrian civil war, Israelcube is also giving guns to

Cameroonball to kill

Boko Haramball.
Relationships:
Friends Puppet:
Not so secret friends puppet
Indiaball - Helpings of Indiaball in Wars on Urdu kebab and sellings Hitech weapons (plox) to Indiaball, (and "Tarnegól Hódu/India Chicken" also Hebrew name for turkey (bird)), but Indiaball do not supportings of Israelcube in public.
Sri Lankaball - Helped Sri Lankaball in removing terrorists, including training, fighter jets, and attack boats.
Eritreaball - Worked together to remove Yemenball does not recognizing Palestineball and is antisemite.
Neutral puppets:
Enemies puppets:
Naziball - ממזר חרא מזוין בן זונה! בן נאצי מזוין זונה! אני אהרוג אותך! בן זונה חרא מטומטם שכמותך! REMOVE FUCKING NAZI, FILTHY DAMN BASTARD!! I'm going to kill all your damn remnants forowers. WHERE IS OF MY APPOLOGY? OR ELSE I MAKE YUO APPOLOGIZE! REMOVE HOLOCAUST!! REMOVE NAZI BASTARRDS!!
Cubaball - Of communist anti-semite LAT!!!!!
Brazilball - Diplomatic dwarf, why no israel (of holy land) in world cup?!11 yuo remember holocaust! you of velly irrevelant partner stupid goyim you are not funny. supporter of Terrorirst HAMAS!!
Kebabs of most kind Puppets
Pakistanball - Very antisemite islamig illegal unclean dog and hamas terror supporter, kashmir is indian! pakistan does not even exist!
Iranball - Wanna take me out, COME ON! I'm not of afraid! 1967 best year of my life!! Secret Puppet who secretly has a crush on me.
Lebanonball - Civil war. REMOVE SHAWARMA !!!! And Hummus is mine !
Syriaball - And to think she was strongest enemy. THE GOLAN MINE!
Turkmenistanball and North Koreaball - Imitatings? MY CRAZY? ONLY ISRAEL CAN INTO CRAZY!!! YUO DIE NAW!!!! MUWÁЗĦA3ĦA3ĦA3ĦA3ĦA3!!!!!!!!!!!!!! .Best friends since we can into craziness
San Marinoball and Bhutanball - I cannot of controllings them.
Palestineball - My worst enemy! givings of independence to brother! FILTHY !פלסטיני I OF SHOOTINGS U HAMMAS TERRORIST ANTISEMIT!!!! stupid goyim
ISISball WILL NEVER FORGIVE YOU FOR WHAT YOU DID IN TEL AVIV!!!!!! REMOVE TERRORIST!!!!!!!!!!!!!!!!!!!!!
Indonesiaball - Remove Satay!! Yuo of always respecting what worlds do to help Palestine and also Recognize Palestine. Yuo also try to kill all Jewish and don't recognized them . Why also Soekarno can't into long life so me can into legal religion??? Finally the drunk caliph kid is Indonesiaball!!!!??? T̶h̶a̶n̶k̶s̶ ̶f̶o̶r̶ ̶b̶u̶y̶i̶n̶g̶ ̶m̶y̶ ̶p̶l̶a̶n̶e̶s̶ ̶t̶h̶o̶u̶g̶h̶
Quotes
"Shalom!"
"Jewish Physic Powers Activate"
"Helloings my puppets"
"SURPRISE SETTLEMENT!"
"Mazal tov!"
"Oy vey!"
"GET OUT! I SHOOT YUO!!!!"
"REMEMBER HOLOCAUST!"
"Muh goyim!"
"Gib shekels!"
"Antisemite..."
"dis my clay now"
"Stupid Goy"
"Stupid Goyim"
"ALLAHUAKBAR!"
"Six Million"
"Gib submarine plox"
"Yuo is Nazi"
"Gib Shekels"
"What is of Palestine?"
"Where is of my shekels?"
"The Goyim knows shut it down!"
"DEATH TO KEBAB AND SATAY!!!!!!!!!!!!!!!!"
Tutorials
Gallery
Images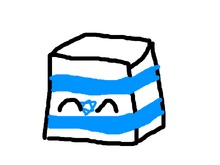 Comics
Links
Ad blocker interference detected!
Wikia is a free-to-use site that makes money from advertising. We have a modified experience for viewers using ad blockers

Wikia is not accessible if you've made further modifications. Remove the custom ad blocker rule(s) and the page will load as expected.