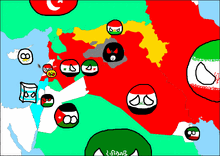 Iraqball is a country in the Middle East. His north part is occupied by Kurdistanball.
History
Iraqball came to be in 1958 after he decided to become a "republic". He was actually a single-party military junta. Ten years later, he became under Ba'ath rule but was still a single party military dictatorship. He then declared war on Iranball in 1980 to "liberate" Khuzestanball. Becuase he couldn't pay debts to Kuwaitball he declared war on him in 1990 claiming that UKball stole Kuwaitball from him in colonial times and that Kuwaitball was stealing Iraqi oil. He failed because USAball-led coalition stopped him from annexing Kuwaitball. Then in 2003 being invaded by USAball, with the intention of liberating. This ended up backfiring immensely. He pulled out in 2011, but ended up in even worse condition. He is now technically friends with USAball, but that doesn't matter much. He recently ended civil war after removing ISIS from his clay.
Before,15% of his clay is held by ISISball and 15% is also sieged by Kurdistanball. Recently, ISISball in Western Mosul is on offensive as his forces advances. But now, he succeeded to take the whole of Mosul from ISIS. He also recaptured Tal-Afar and is now invading Hawija and he won. [1] His final campaign was his Western Iraq Campaign, and he liberated the desert on December 9th, ending ISISball in Iraqball. On December 10th, Iraqball celebrated the end of ISISball with a parade.
Relationships
Friends
Neutral
Enemies
Gallery
Links
Mesopothamia Republic of Iraq
ENEMIES!
ISISball
Governorates


الله أكبر

Al Anbarball • Al Diwaniyahball • Babilball • Baghdadball • Basraball • Dhi Qarball • Diyalaball • Dohukball • Erbilball • Halabjaball • Karbalaball • Kirkukball • Maysanball • Muthannaball • Najafball • Ninevehball • Saladinball • Sulaymaniyahball • Wasitball
Historical entities
Natives • Sumerball • Babylonball • Assyriaball • Macedonball • Seleucidball • Parthiaball • SPQRball • Sassanidball • Rashidunball • Umayyadball • Abbasidball • Ilkhanateball • Jalayiridsball • Qara Qoyunluball • Aq Qoyunluball • Safavidball • Afsharidball • Ottomanball • Mandatory Iraqball • Kingdom of Iraqball