The contents of this page are subject to change.
Recent things have happened to Iranball, so it is subject to change. You can add the new information too! Alternatively, visit the talk page to add recent information that it should have.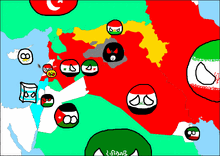 The Islamic Republic of Iranball, commonly known as Iranball is a countryball in the Middle East. He is son of Persiaball.
Islamic Republic of Iranball has a strong desire to erase

Israelcube off the map. (Thought that was bad? Try seeing how Lebanon sees Israel) Iranball also enjoys making nuclear weapons, to help it deal with Israelcube. Other interests of Iranball are denying the Holocaust and enforcing

 Shiaball to Sunni countryballs such as

Bahrain. He hates being called an Arab as he is Persian, but still he is friend with many Arab states.
His birthday (National Day) is on April 1. His astrological sign is Aries. (this isn't a joke)
He also has Allah is the greatest on his flag.
From December 2017, he began to collapse from within with protests and more protests to overthrow the Islamic Republic and restore the Shah or, at least, to create a Democratic and Secularist Republic.
Personality
Iranball is a very religious country. Many countryballs feel uneasy because of his nuclear program. He doesn't like some Sunni states like Saudi and he absolutely hates Israelcube. He doesn't tolerates gays as one refused to join his threesome in 1996. Though considered oppressive and rightly so, Iran is very organised. He is also more tolerant of other religions than

Saudi Arabiaball as there are spots in his parliament for

Christians,

Zoroastrians,

Jews, and

Sunnis.
He consider himself relaxed (there is controversies about this), organized and always seems neutral but actually commands the creation of groups to fight his enemies. He likes sports, such as football or skiing, and even though much of its territory is mountainous, has an economy based on oil and agriculture.
He is Proud of the Persians.
Relationships
Friends
Neutral
Enemies
Family
Countries Voting Against Condemning Iran in the UN Vote
Thank You Friends
Provinces
Tehranball - My spectacular capital city and biggest City of Iran and the world. This is what a real City should look like.
South Azerbaijanball - A lot of Azerbaijanis and Turks live here. From this place here are come the best carpets.
Al-Ahwazball - I think you are the hottest place in world, right?
Semnanball - He accepts that I can test missiles in his desserts.
Qomball - Our holy place of Mosques and Russiaball did buy his Airport for 2.8 Mio Euro, that's nice because you've earned some Money.
Ardabilball - I call him Iranian Siberia, because he is one of the coldest place in Iran.
Kermanball - A lot fruits come from here. Pls do more fruits and food for me.
Kermanshahball - Our most important oil refinery is there. So pls be careful of that ISISball Haram Terrorists that they not can stealing it.
Hormozgānball - You are My second favourite Province (after Tehranball) because your beaches are beautyful and the Cities especially Bandar Abbas and Kish Island.
Farsball - Another spectacular City of Iran after Isfahan, Mashhad and Teheran.
Bushehrball - My Industrial and important Province for Trade. There is also Our Atomic factory that Israelcube planned to attacked it, but never did it, because he have no balls to attacking it...
Kohgiluyeh and Boyer-Ahmadball - I don't have so much contact with him. But btw why do you choose so a hard name??!! Kohgu-Kigugh-Kohguluieh... A dammit.
Yazdball - How should I call you?! Dschast? Iast?
Zanjanball - Nothing Special, but he produces a lot of Bread and Wheat, do more for me pls.
Golestanball - My Turkmenistan, You have also a beautyful Nature.
Gallery
Videos
Links
Iran, heir of Persia
Provinces


☫

Alborzball • Ardabilball • East Azerbaijanball • West Azerbaijanball • Bushehrball • Chahar Mahaal and Bakhtiariball • Farsball • Gilanball • Golestanball • Hamadanball • Hormozgānball • Ilamball • Isfahanball • Kermanball • Kermanshahball • North Khorasanball • Razavi Khorasanball • South Khorasanball • Khuzestanball • Kohgiluyeh and Boyer-Ahmadball • Kurdistanball • Lorestanball • Markaziball • Mazandaranball • Qazvinball • Qomball • Semnanball • Sistan and Baluchestanball • Tehran Provinceball ( Tehranball) • Yazdball • Zanjanball
Historical entities
Medesball • Achaemenidball • Parthiaball • Sassanidball • Rashidunball • Abbasidball • Umayyadball • Ilkhanateball • Pahlavi Iranball
Ummah - Land of Almighty Allah
Denominations
Ibadiball • Shiaball ( Alevismball) • Sunniball ( Salafismball)
Countries
Afghanistanball • Albaniaball • Algeriaball • Azerbaijanball • Bahrainball • Bangladeshball • Bosnia and Herzegovinaball • Bruneiball • Burkina Fasoball • Chadball • Comorosball • Djiboutiball • Egyptball • Gambiaball • Guineaball • Indiaball •

Indonesiaball • Iranball • Iraqball • Jordanball • Kazakhbrick • Kosovoball • Kurdistanball ( Iranian / Turkish / Syrian) • Kuwaitball • Kyrgyzstanball • Lebanonball • Libyaball • Malaysiaball • Maldivesball • Maliball • Mauritaniaball • Moroccoball • Nigerball • Northern Cyprusball • Omanball • Pakistanball • Palestineball • Puntlandball • Qatarball • Saudi Arabiaball • Senegalball • Sierra Leoneball • Somaliaball • Somalilandball • Sudanball • EUball • Syriaball • Tajikistanball • Tunisiaball • Turkeyball • Turkmenistanball • Uzbekistanball • UAEball • Western Saharaball • Yemenball • Swedenball

Jewish Issac Jacob Kebab in Denial
Israelcube
Organizations
Arab Leagueball • OICball • Arab Maghreb Unionball
Jihads
Al-Qaedaball • Al-Shabaabball • Ahrar al-Shamball • Caucasus Emirateball • FSAball • ISISball ( Boko Haramball) • Islamic Courts Unionball • Jabhat Fateh al-Shamball • Muslim Brotherhoodball • Talibanball • Tahrir al-Shamball • Wilayat Barqaball
Anti-Wahabbi Resistance
Hamasball • Hezbollahball • Houthiball • PLOball
Territories
Bangsamoroball • Bashkortostanball • Chechnyaball • Cocos Islandsball • Dagestanball • Guantánamo Bayball • Ingushetiaball • Jammu and Kashmirball • Kabardino-Balkariaball • Karachay-Cherkessiaball • Lakshadweepball • Mayotteball • Nakhchivanball • Socotraball • Tatarstanball • Uyghurball • Zanzibarball