"
Me not Poland!
"
 

— Indonesiaball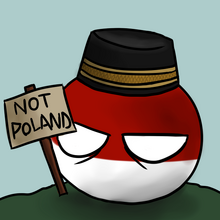 Indonesiaball
is the largest
countryball
in Southeast Asia, and the
second-largest
in Oceania. He is also one of the founding members of

ASEANball
union. He is

Netherlandsball
's adoptive son, and has lots of territorial disputes with his neighbours. He is often called Muslim Poland, which he hates.
Indonesiaball is a member of the G20 (or Group of Twenty), a club formed by the countryballs that have the 19 largest economies plus the EUball.
Sejarah (History)
Edit
Indonesiaball is descended from

1ball, and his father was Kingdom of Javaball (and several other kingdoms). In the 1600s, he was born and adopted shortly after by Dutch Republicball, who changed his name to Netherlandsball. He also at some points had been adopted by Portugalball, Franceball and UKball (Indonesiaball thinks UKball was the best). By 1900, he had become Netherlandsball's richest adoptive son, then named Dutch East Indiesball.
However, in 1942, the ridiculous and stupid kawaii
Japanball invaded and anschlussing him and all his neighbours. He left in 1945, but Dutch East indies ball had enough of being controlled. So in 1945, he started fighting his adoptive father and his ally

UKball for independence, achieved officially in 1949.
After he became of independent, he changed his name to Indonesiaball.
Indonesiaball started to buildings economy but crazy shit is of happens, there is a lot of wars and separatist scum and commie problem. And the anschluss intergration of West Papuaball, he also of doings "commie removal ops". In 1967 he is of doings "new order" mode,
Indonesiaball can into lot of monies from USAball and he anschlussed integrated

East Timorball.
The new order was a prosperous time for Indonesiaball,his economy grew and in 1984,he doesn't need to buy rice from his neighbours because he can into self-sufficient(back then),and shit just got better until this happened changed his life forever...
1997 worst time for Indonesiaballs' life. Economy gone shit, riots that full of angry students (tawuran), killings of Chinese-Indonesianballs really make him stressed. And he is of forced to release

East Timorball because the rest got angry about thatnot anymore.
Now, he is in the "Reformation" era, repairing his government, building a better economy, removing all corruption, stopping the flood and smog, removing
drug seller, and make sure that Wi-Fi is located everywhere for being a better Indonesiaball. Right now Indonesiaball wants to return to his former glory during the new order era but with freedom.Maybe it will never happen SOMEDAY...
Informasi (Information)
Edit
Indonesiaball is a country-ball that have red (formerly dark red) and white area on skin. What is making different between Indonesiaball from Polandball or Monacoball is the Songkok. Songkok is a kebab black hat (sometimes with yellow stripes) on Indonesiaball, derived from the fact that Indonesia have biggest kebab population ever. Even more kebab than in Europe. Indonesiaball is closest relatives of

Malaysiaball,

Tringapore, and

Bruneiball. Or sometimes, he wear a yellow rice hat like 1ball wear.
Indonesia is known to be the world's 4th populous country in the world. Also known for being the highest country of Muslim population.
He have lots of resources but he can sometimes ban other countryballs from taking it. He hates when his neighbours (and Chinaball) steal fish from his waters.
He is the only countryball that have left

UNball, then join again. Also Indonesiaball can into oil money.
He is also VERY defensive of his borders and likes to destroy boats that illegally entered his sea.
In East Timor, Indonesia can even into remove HUE and Canuck before, during and after the new millenium started.In November 2016,Indonesiaball had a trouble with Jakartaball's governor after the governor insults (accused) muslims in Indonesia.
Cara Menggambar (How to Draw)
Edit
To draw Indonesia ball is easy as crybaby East Timor draw Polandball or Monacoball:
Draw the ball.
Make a red divider in the middle, then fill the upper half with red.
Draw the eyes.
DON'T FORGET TO DRAW SONGKOK OR RICE HAT.
Geografi (Geography)
Edit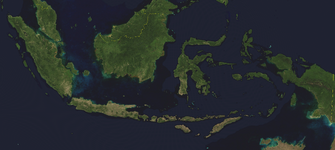 Indonesiaball is an archipelagic country extending 5,120 km from east to west and 1,760 km from north to south. It encompasses an estimated 17,508 islands.
Indonesiaball comprises five main islands: Sumatra, Java, Borneo (known as "Kalimantan" in Indonesiaball), Celebes (known as "Sulawesi" in Indonesiaball), and New Guinea; and also some minor islands like Bali, Madura, Ceram, and many more.
Indonesiaball neighbouring countryballs include Malaysiaball and Philippinesball in the north side, Papua New Guineaball in the east side, Malaysiaball (Peninsular) and Tringapore in the west side, and East Timorball and Australiaball in the south side.
Indonesiaball also a transcontinental country, that lies between Asia and Oceania; because the whole New Guinea belongs to Oceania.
Hubungan (Relationships)
Edit
Teman (Friends)
Edit
New Zealandball - Australiaball shadow but with hobbits and snow. Also, with more nice people and nice scenery. Best student exchange, YAY!! Also, the one who never backstabbed me before.
Netral (Neutral)
Edit
Musuh (Enemies)
Edit
Lainnya (Others)
Edit
East Timorball - You ungrateful son!, why do you leave me ? (well it's for my own good...). And looks like you're started to regret because your clay is worthless and your human resouces shit, even taking aid in Kupang.
Vaticanball - Thank you for willingly visit us again since 1989 this year in 30/7 to 6/8 2017
Keluarga/Kerabat (Family)
Edit
Provinsi (Provinces)
Edit
Please help expanding and adding caption plox
  These are Indonesiaball's sons, at first there are only 8, but, Indo likes chopping them one by one (by adding provincial/gubernatorial/camat/lurah/RW/RT borders between them) so now there are 34 provinces (35 if East Timor still Indo clay). Sadly, he sometimes forget to gib Rp to some (actually A LOT) of his sons (Javaballs and Sumateraballs and Baliball can into Rp while others are still irrelevant not that into Rp, some even use RM). Despite being given,some of them end up in corruption.
-JUAH !!!Land of Kebab, Rendang, and begal and Angkot modification
Acehball - Likes Kebab so much, can into strict sharia, tsunamis, and earthquakes. ALSO CAN INTO BEST WEED (also make food with weed)
North Sumateraball - PARGABUS(liar) HO , PIDONG(d*ck) !!! BODAT(monkey) !!! Bah , Likes palm oil so much and can into new airport ! HOoooooRAS BANGSO BATAK !!!! MEJUAH-JUAH !!!! RIBAK SUDE !!! TUAK !!! (not for kebabs) JAGAL NI B1 DOHOT B2 MANTAP NAI BAH !!! (also not for kebabs) Note : Although Batak people are rude, they're have tenderous heart.Need Help from Serbiaball to Remove Kebab Lake Toba is a time bomb which may end the world civilization, prepare yourself if it erupts...........
Riauball - Also into palm oil but likes but like to burn forest for it, also where smog comes from also Malaysian palm oil companies burn forest there
Riau Islands Provinceball - neighbors Tringapore lah .. Batam Clay can into liek Scorpio , lah... And must protect Natuna islands.
Jambiball - Kebab also here. Unknown and undiscovered land
Bengkuluball - Smelly but beauty Rafflessia available here! Kind of irrelevant.
South Sumateraball - Submarine (Pempek) Is My Food lah. Has a polluted long river called Musi River.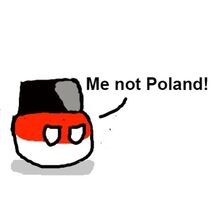 Bangka-Belitungball - Homeland of timah (tin) and Ahok
Lampungball - Can into coal, natural gas, black pepper and elephant conservation liek Thailand does. DON'T MESS WITH LAMPUNG
Jawa (Javascript)Edit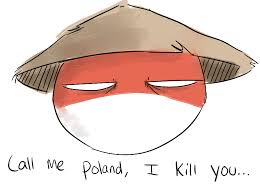 Most populated island. Too many population. And wants to gib population to other island.
Bantenball - Always protect Rhinos!!! Has many high class bussiness centres, shopping malls, and universities. In contrast, there's also Badui tribe which still practice native custom.
Jakartaball - My richest son but is of hating sea and traffic jams, and very smoggy. Have a dream about being nice, anticorrupt, and not into flood and trash. The 'disputably' most apocalyptic ball in polandballs. (getting nuked by Stalin xD)
West Javaball - Most populous province. Son that likes selling clothing too much and X-Caliph's Homeland. Lot of street dangdut and angkot. :) Oh and home of fahri sidik the ojek!
Yogyaball - Last kingdomball (only rule province) in Java !
East Javaball - Land of exotic volcanoes and secret beach
Maduraball - GYPSY OF INDONESIA!! Selling a best Sate
Kalimantan (Indonesian Borneo)
Edit
BIGCLAY MADAFAKA!!! Nearest to my brother, also beheaders of maduraballs and treeshaggers (meh, government always ignore )
Central Kalimantanball - Malay's lost airplane found around his sea. Why always he ??? Never mind of his problem thouthou.
South Kalimantanball - Kalimantanballs big bro with small size, Likes Barito Putera FC so much, Also can into floating market. Wanna see crowdest prison ? Wanna try some genie pills ? it's called Jinet. (IMPORTANT: Never imagine Pantai Jodoh is a beach)
Sunda Kecil (Little India Sunda) Edit
Almost no kebab there, but can into tourism.
Baliball - Son that can into tourist monies. Best and different Hindu. Never forget 2002 and 2005. Almost no kebab here.we has magical powers
West Nusa Tenggaraball - Have beautiful Senggigi Beach. Also, Tambora eruption is one of the most devastating but it's incomparable to Toba Volcano
Sulawesi Coffee,K-shaped Island (Celebes) Edit
Can into Bugis, weird K-shaped island, and coffee too
Edit
North Sulawesiball - Many beauty sea. Few kebab. Visit Bunaken plox. Also where the kampret jewcubes are hiding. Don't sails further to Pinoy's land. No Indepence For yuo
Southwest Sulawesiball - Beware of Anoa. Bali 2.0!! IT'S MORE FASCINATING!!!
Land of Sagu Maluku Islands and PapuaEdit
Almost no kebab at all
Edit
Malukuball - Ambon manise! Kebab???
Kutipan (Quotes) Edit
Indonesiaball speaks in Bahasa Indonesia, Broken English, and local language. These quotes below are dominated by Bahasa Indonesia. Some of them are Javanese, or likely bad Javanese. And the other is Bataknese, Padangnese, Balinese, etc.
"Bhinneka Tunggal Ika"
"Wkwkwkwkwkwkwkwkwkwkwk"
"Piye kabare?,...isih penak jamanku to!"
"Amerika kita setrika! Inggris kita linggis!"
INDOMIE MASTER RACE!
"PANCASILA!"
"Kumaha? Damang?"
"Halo..... Hai"
"Salken,... salken,..."
Horas!
Jancuk!
Bego!
Ndasmu!
PENISTAAN!
Terimakasih klinik T0ngf4ng dapat membuatmu mandul selamanya
RENDANG RENDANG RENDANG
SAMLEKOM!
Om Telolet Om
Fitsa Hats
Ikan Kontol
OM OJEK OM!
#IndomieSeleraku
#KMS
"TENGGELAMKAN!"
Bang Makan Bang
#KamiTidakTakut
Biar greget
#PrayForJakarta
#Boikotto
Galeri (Gallery)
Edit
Pranala (Links)
Edit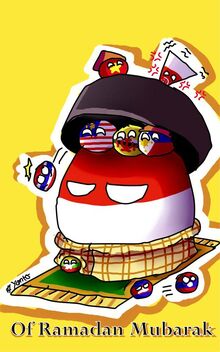 Ummah - Land of Almighty Allah
Denominations
Ibadiball • Shiaball ( Alevismball • Alawitesball) • Sunniball ( Salafismball)
Countries
Afghanistanball • Albaniaball • Algeriaball • Azerbaijanball • Bahrainball • Bangladeshball • Bosnia and Herzegovinaball • Bruneiball • Burkina Fasoball • Chadball • Comorosball • Djiboutiball • Egyptball • Gambiaball • Guineaball • Indonesiaball • Iranball • Iraqball • Jordanball • Kazakhbrick • Kosovoball • Kurdistanball ( Iranian / Turkish / Syrian) • Kuwaitball • Kyrgyzstanball • Lebanonball • Libyaball • Malaysiaball • Maldivesball • Maliball • Mauritaniaball • Moroccoball • Nigerball • Northern Cyprusball • Omanball • Pakistanball • Palestineball • Puntlandball • Qatarball • Saudi Arabiaball • Senegalball • Sierra Leoneball • Somaliaball • Somalilandball • Sudanball • EUball • Syriaball • Tajikistanball • Tunisiaball • Turkeyball • Turkmenistanball • Uzbekistanball • UAEball • Western Saharaball • Yemenball
Jewish Issac Jacob Kebab in Denial
Israelcube
Organizations
Arab Leagueball • OICball • Arab Maghreb Unionball
Jihads
Al-Qaedaball ( Al-Nusraball) • ISISball ( Boko Haramball) • Talibanball • Jabhat Fateh al-Shamball • Hezbollahball • Hamasball • PLOball

!!أوربا ستكون إسلامية قريباً
Ad blocker interference detected!
Wikia is a free-to-use site that makes money from advertising. We have a modified experience for viewers using ad blockers

Wikia is not accessible if you've made further modifications. Remove the custom ad blocker rule(s) and the page will load as expected.