Guyanaball is a countryball in South America. Guyanaball is part of World Class West Indiesball Cricket Team and known as the Only English country Speaking in South America.
History
Guyanaball, Surinameball and French Guyanaball were born as a 3ball, adopted respectely by UKball, United Kingdom of the Netherlandsball and Franceball during XIX century, that were known by being called "The Guianas".
There are nine indigenous tribes residing in Guyana: the Wai Wai, Machushi, Patamona, Arawak, Carib, Wapishana, Arecuna, Akawaio, and Warrau. Historically the Arawak and Carib tribes dominated Guyana. Although Christopher Columbus sighted Guyana during his third voyage (in 1498), the Dutch were the first to establish colonies: Essequibo (1616), Berbice (1627), and Demerara (1752). After the British assumed control in 1796, the Dutch formally ceded the area in 1814. In 1831 the three separate colonies became a single British colony known as British Guyanaball.
Since Independence in 1824, Venezuelaball has claimed the area of land to the west of the Essequibo River. Simón Bolívar wrote to the British government warning against the Berbice and Demerara settlers settling on land which the Venezuelans, as assumed heirs of Spanish claims on the area dating to the sixteenth century, claimed was theirs. In 1899 an international tribunal ruled the land belonged to Great Britainball. The border disputes persist and no final settlement has been reached.
Guyanaball achieved independence from the UKball on 26 May 1966 and became a republic on 23 February 1970, remaining a member of the Commonwealth. The US State Department and the US Central Intelligence Agency (CIA), along with the British government, played a strong role in influencing political control in Guyanaball during this time.[12] The American government supported Forbes Burnham during the early years of independence because Cheddi Jagan was identified as a Marxist. They provided secret financial support and political campaign advice to Burnham's People's National Congress, to the detriment of the Jagan-led People's Progressive Party, which was mostly supported by Guyanese of East Indian background.
In 1978, Guyanaball received international notice when 918 members of the American cult, Peoples Temple, died in a mass murder-suicide. Most of the suicides were American and more than 300 children were killed; the people were members of a group led by Jim Jones in Jonestown, the settlement which they had created. Jim Jones's bodyguards had earlier attacked people taking off at a small remote airstrip close to Jonestown, killing five people, including Leo Ryan, the only US congressman ever assassinated in the line of duty.
Relationships
How to draw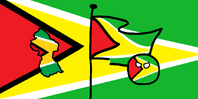 Draw Guyanaball is a bit difficult:
Color the basic circle shape of this green
Draw a left-from arrow white border and color the arrow of yellow
Draw a left-from half arrow black border and color the half-arrow of red
Draw the eyes and you've finished.
Gallery
Artwork
Comics
Sheriff Suriname series
Ummah - Land of Almighty Allah
Denominations
Ibadiball • Shiaball ( Alevismball) • Sunniball ( Salafismball)
Countries
Afghanistanball • Albaniaball • Algeriaball • Azerbaijanball • Bahrainball • Bangladeshball • Bosnia and Herzegovinaball • Bruneiball • Burkina Fasoball • Chadball • Comorosball • Djiboutiball • Egyptball • Gambiaball • Guineaball • Indonesiaball • Iranball • Iraqball • Jordanball • Kazakhbrick • Kosovoball • Kurdistanball ( Iranian / Turkish / Syrian) • Kuwaitball • Kyrgyzstanball • Lebanonball • Libyaball • Malaysiaball • Maldivesball • Maliball • Mauritaniaball • Moroccoball • Nigerball • Northern Cyprusball • Omanball • Pakistanball • Palestineball • Puntlandball • Qatarball • Saudi Arabiaball • Senegalball • Sierra Leoneball • Somaliaball • Somalilandball • Sudanball • EUball • Syriaball • Tajikistanball • Tunisiaball • Turkeyball • Turkmenistanball • Uzbekistanball • UAEball • Western Saharaball • Yemenball
Jewish Issac Jacob Kebab in Denial
Israelcube
Organizations
Arab Leagueball • OICball • Arab Maghreb Unionball
Jihads
Al-Qaedaball • ISISball ( Boko Haramball) • Talibanball • Tahrir al-Shamball
Anti-Wahabbi Resistance
Hezbollahball • Hamasball • Houthiball

!!أوربا ستكون إسلامية قريباً
Ad blocker interference detected!
Wikia is a free-to-use site that makes money from advertising. We have a modified experience for viewers using ad blockers

Wikia is not accessible if you've made further modifications. Remove the custom ad blocker rule(s) and the page will load as expected.