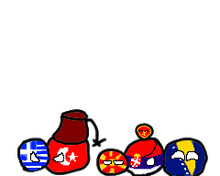 Greeceball (Also known as Hellasball) is a countryball located in South-Eastern Europe and can be in European Union and NATO. The economical crisis recently is giving Greeceball a hard time though because stupid politicians.
Description:
Edit
He likes euros... or gyros... well, he actually likes both.
He hates

Nazis,
Kebab (Kebab is from middle east. Souvlaki is from Greeceball) and wants

Constantinopleball and
Smyrnaball back. Has a great military history with glorious victories over his enemies. But and today Greeceball have a great military! only 4 european balls can beat him and hardly like Russiaball, NaziBall, UKball and Italyball (although we did defeat them in World War 2).
Personality:
Edit
Greeceball loves gyros and euros.
He always misses his days of glory as the beating heart of Civilization and invented everything modern world from philosophy to democracy to science. Yet he also loves his friends and his allies.
Greeceball will always protect his friends and religion from evil

Nazi and his beautiful islands from the evil kebab. Greeceball is also very hospitable and can cook good eatings.
In ancient times, Greeceball was a heaven for philosophers, mathematicians, and other amazing accomplishments like the sculpting and architecture.
He also invented the Olympics, democracy, and the Greek language. Famous Spartaball came from Greeceball too. Greece was eventually conquered by
SPQRball, never to return to its former glory.
We then became Byzantineball and ruled happily until Turkeyball took over and destroyed my Empire in 1453. But after 400 years of kebab rule we organised a revolution to take out Kebab and become Greeceball again! We still do not like that filthy kebab.
In 1940,

Italyball decided to try and steal some of Grececeball's clay. This resulted in the Greco-Italian War in which Greece kicked

Italyball's meatballs so hard that

Nazi Germanyball had to intervene. Despite fighting hard, Greeceball and its western allies, leading to the joint occupation of Greece between

Nazi Germanyball,

Bulgariaball and

Italyball. Greeceball was freed in 1944 when Axis forces withdrew from his clay.
Afterward in 1974, the KEBAB TAKE THE 40% OF CYPRUS FROM ME!!! that was so unfair since Cyprus is of GREECE not KEBAB. BUT i can say that it was the weak Cypriot army that lose by the Kebab in all the battles, my army take place only in 5 battles who i win easily! and thanks to those battles, i save the rest 60% of my daughter!
Greeceball later joined the

UNball and

EUball and payed off most of his debts.
Relations with other countries:
Edit
Friends:
Enemies

Related templates
Merkelreich European Union - United in Diversity
Founders
Belgiumball • Franceball • Germanyball • Italyball • Luxembourgball • Netherlandsball
€ Euro Zone €
Austriaball • Cyprusball • Estoniaball • Finlandball • Greeceball • Irelandball • Latviaball • Lithuaniaball • Maltaball • Portugalball • Slovakiaball • Sloveniaball • Spainball
Other Members
Bulgariaball • Croatiaball • Czechball • Denmarkball • Hungaryball • Polandball • Romaniaball • Swedenball
Future Members
Albaniaball • Bosniaball • Icelandball • Kosovoball • Macedoniaball • Montenegroball • Norwayball • Serbiaball • Switzerlandball • Turkeyball
Members Out
Faroe Islandsball • Greenlandball
Members to Leave
UKball ( Isle of Manball) (voted to leave in 2016)

Franceball (Due to ISISball)

*Migrants not allowed
Ad blocker interference detected!
Wikia is a free-to-use site that makes money from advertising. We have a modified experience for viewers using ad blockers

Wikia is not accessible if you've made further modifications. Remove the custom ad blocker rule(s) and the page will load as expected.