"
You is of aristocrat!
"
 

— Japan about England
"
ENGLAND IS MY CITY!
"
 

— Nick Crompton on England
Englandball
is
a city
one of the four entities of
UKball
and also its main part. It is usually mischanged with this latter. It is more populated and richer than

Scotlandball
and

Walesball
.
He is a part of the island (which is technically an archipelago due to islands like Orkney) of Great Britain (which composes of

Englandball,

Scotlandball and

Walesball) as well as the old Roman territory of Britannia or the British Isles as the landmass is (usually only by smart people to brag about knowing more) called (composing of

Englandball and

Walesball). Great Britain/Britain are by some mistaken as countries (in particular
Americaball who doesn't even know the difference between Great Britain, Englandball and UKball) though this isn't true so there is no Great Britainball or Britainball. He is also in a little known and generically named legal union called England and Wales, which is composed of (surprise)

Englandball and

Walesball.
Englandball has been the long suffering neighbour of Scotlandball and Franceball while Walesball is his plaything for when he gets tired of playing with the others.
While Scottish independence is dying an independence movement in England is rising due to his frustration of lacking a parliament.
Recent studies have shown he is actually Celtic.
History:
Before 927, England wasn't a united entity but instead a mix of different Anglo and Saxon petty kingdoms. After 866 there was a period of Danish vassalization called Danelaw. In 1066, Duchy of Normandyball conquered the Kingdom of Englandball And Installed A New Leader
The moment when England became a region is in 1707, with the Acts of Union, where Kingdom of Scotlandball and Kingdom of Englandball joined into UKball.
Counties:
England is filled with so many counties that it almost seems like people like their counties more than the whole union (such as Cornwall, Yorkshire, Norfolk, and the scum Suffolk) this is their parallels of European nations:
How to draw:
Draw Englandball is very simple:
Draw the basic circle shape
Draw a red + cross
Draw the eyes and you've finished.
Optional: bowler hat, umbrella, monacle
Gallery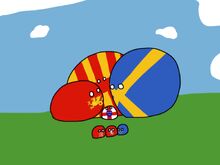 Ad blocker interference detected!
Wikia is a free-to-use site that makes money from advertising. We have a modified experience for viewers using ad blockers

Wikia is not accessible if you've made further modifications. Remove the custom ad blocker rule(s) and the page will load as expected.