"
Jeg elsker Legos!
"
 

— Denmarkball, expressing his love for Legos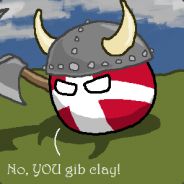 Denmarkball or Danmarkkugle in Danish is a happy countryball in the northern part of Europe with a gibberish language that is worse than cancer because it is an entire language. speak Ølish, a dialect of countryball speak in which e, o and a can be freely substituted by æ, ø, and å.
His capital is

Copenhagenball, and Denmark has used its flag since 1370, possibly earlier. It has one of the oldest country flags.  
Denmark is normally regarded as very small (a jutting peninsula on the European coast and 443 smaller islands), but he is actually huge (because of Greenland) and has a fine education and great welfare. He is the country where LEGO bricks were created.
In 2011, Denmarkball was can into female leadership.
History and personality
Ages ago, Denmarkball was another Vikingball pillaging Europe with his brother and sister,

Norwayball and

Swedenball. The bloodlust of Denmarkball was unmatched and as a result, Denmarkball found himself drawn into the conflicts ravaging Europe.
Unfortunately for Denmarkball, he did not always come out on top, and after a humiliating defeat against

Kingdom of Prussiaball and

Austriaball in 1864, Denmarkball's personality changed. Having little territory left to lose, Denmarkball sought a way of neutrality and strived to keep out of all conflicts.
Staying out of the First World War successfully, Denmarkball was occupied by

Naziball during the Second World War following a few hours of symbolic fighting. After the Second World War, Denmarkball provided support to various peace-keeping missions around the world. The most famout being in

Bosniaball wherein misused his mandate as a peace-keeping force and defended

Swedenball from

Srpskaball.
In recent years, Denmarkball has rediscovered his bloodlust and was one of the countries who helped
USAball in

Afghanistanball and

Iraqball. While Denmarkball is proud of his Viking heritage, he manages to hide his actual bloodlust under a layer of alcoholism, under the fear that he may lose yet another war. However, Denmarkball often threatens to kick 

Swedenball's butt if for no other reason than tradition. Denmarkball made the Lego, and uses this to excuse that Swedish propaganda. He uses this to entertain kids everywhere, which is why he is the happiest country in the world, much unlike his son

Greenlandball who is heavily depressed. He has is own pig breed known as the protest pig which nearly resembles Denmark's flag. Denmark is also famous for the Hundesprutterutchabane, or "Dog Fart Roller-Coaster."
Relationship
The Savage Nordic family is a big family with many countryballs, some are brothers other are friends or cousins.
Norwayball is one of Denmarkball's brothers, they love each other and they often hang out and drink Øl with each other.
Swedenball Love/Hate relationship. We are often rivals!
USAball - Denmarkball is in USAball's NATO alliance. Denmarkball thinks he is ok mostly, but he is best friends with Hans Stealer! Denmark is of watching him.
Icelandball Is also a part of the Nordic family. Iceland is Denmarks proudest grandson, and he wrote about Denmark in his Viking sagas.
Finlandball is Denmarkball's brother.Finland and Denmarkball do not have the closest relationship with each other, but they have a few things in common.
Greenlandball is Denmarkball's oldest adopted son. Greenland wishes to become independent, however, Denmark will not let him. Denmark dislikes Greenland's suicidal personality and wishes to help his son out of his depression.
Russiaball - Throughout the time, they were never at war with each other. Until the formation of the Soviet Union (which also helped Denmark get rid of the nazi invaders), Russia was Denmark's closest ally in some wars, like this or this one. To date, their relationship is quite mixed, but both Denmark and Russia appreciate each other to this day.
Faroeball is another of Denmarkball's children. adopted him from Norway because Norway was a very bad parent (Scotland adopted Norway's other two kids Shetland and Orkney).
Aalandball is Denmarkball's niece. Denmarkball gave Åland her first øl.
Canadaball is Denmarkball's enemy. They fight over small rocks and islands. Denmarkball claims they are his because Greenlandball is near them, and Canadaball claims they are his because it's close to the mainland.
Australiaball or more specifically Tasmaniaball one of Denmarkball's princesses is Tasmanian and Denmarkball was the birthplace of the only Tasmanian devil born outside of Australia.
New Zealandball along with Denmarkball himself are some of the least corrupt countries in the world.(tie)
Thailandball- We form Thai-Danish milk/farm and we also sign a treaty about environment to each other too!
Chinaball - Stop copy Lego
Family
Gallery
Artwork
Comics

Related templates