"
With Glowing Hearts we see thee rise the... (shouts) TRUE NORTH Strong and Free...
"
 

— Winnipeg Jets fans yelling anthem proudly
"
Heck! They're even whiter than we are!
"
 

— John Candy in the movie "Canadian Bacon" talking about Canada
"
Blame Canada! Blame Canada! With all their beady little eyes and flapping heads so full of lies
"
 

— South Park

Canadaball is a countryball living in Northernmost North America. His clay mainly borders his brother

USAball which includes

Alaskaball, and is very close to the Danish autonomous territory of

Greenlandball. The country is divided into 10 provinces and 3 territories, including his capital

Ottawaball, giving him a total area of 9.98 million square kilometers (3.85 million square miles) of clay in total, and only

Russiaball is larger. As of 2016, he maintains a population of about 36.29 million inhabitants, small for the 2nd largest country, even smaller than
Californiaball.
Being a highly westernized country already gives Canada the ability to join

NATOball, and being geographically in North America makes him a member of NAFTAball. He is also a member of the G20 and the G7 (or Group of Twenty), a club formed by the countryballs that have the 19 largest economies plus the

EUball.
Canada is often seen as America's little brother who is more peaceful and tolerant. He welcomes refugees and immigrants such as Syrians and Mexicans to come and live in his clay, and has even recently legalized marijuana, something USA despises. Though while there are a few things Canada is more tolerable at, he still follows in the footsteps of his brother, doing things like hating

Russiaball and

Iranball, and helping to lead NATO.
His birthday (Canada Day) is on the 1st of July. His astrological sign is Cancer. In 2017 he celebrated his 150th (looking good!).
On November 11th, Canada commemorated the sacrifice of all Canadians who fought for victory. The 100th anniversary of the armistice is something we Canadians need to honor
History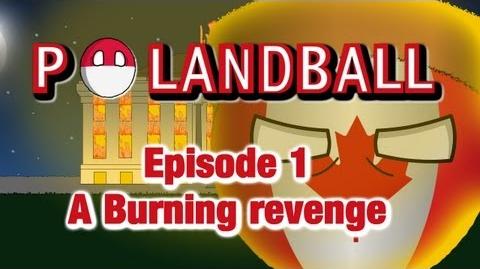 A long time before becoming a dominion, Canadaball was also known as

British Canadaball. He was born as a

3ball, then in 1608 he was colonized by

Franceball and she became his mother. By 1690,

UKball had also landed near Canadaball, he landed in present day

Virginiaball and met his present day brother

USAball who was at the time a

7ball. They fought King William's War (1689-1697), Queen Anne's War (1702-1713), and King George's War (1744-1748). Then in 1754,

Franceball and

UKball fought the Seven Years' War until 1763, when the Treaty of Parisball gave

UKball adoption rights to

Franceball's child

New Franceball (AKA Canadaball). Soon afterward,

UKball's other North American son
Thirteen Coloniesball rebelled against his father and became independent in 1783.
Canadaball fought with his father

UKball against his brother 

USAball when he was still only a colony. The war eventually was simplified to two sides peppering away at each other while Europe was busy attacking Napoleon and Franceball. In 1814 

UKball burned down the White House in Washington DC, something which

USAball is still sore about (And will constantly scream about: "We would've steamrolled you after New Orleans!"). Political unrest in 1837 led so responsible government and the Durham Report, which united Upper and Lower Canada into Canada-Unis. These movements led to a more progressive political situation.
In 1864, Canadaball's sons met at Charlottetownball to discuss confederation, which was accomplished in 1867, resulting in Canadaball becoming a Dominion of the

British Empire.

UKball rarely had trouble with him after that point, except in 1885 he had to help crush the North-West Rebellion. In 1914, Canadaball went to Europe to help his parents fight

Reichtangle (

German Empireball) in the Great War. In 1919, he sat at the Paris Peace Conference as well and received his own seat in the League of Nations.
Canadaball did well in the 1920s, but the Great Depression affected him, and in 1939 he went to Europe again to help fight

Nazi Germanyball. His help in liberating

Netherlandsball won him another friend. In 1949,

Newfoundlandball agreed to move into Canadaball's home. Canadaball helped fight

Chinaball in the Korean War, and changed his clothes in 1965, to celebrate his centenary of federation. In the 1970s and 1980's, Canadaball became a developed country, gaining more and more autonomy from

UKball, and eventually creating his own constitution in 1982. (However, Canadaball had been independent before for decades, granted a status of dominion in 1867 and de-facto independence in 1931, where he gained diplomatic and internal autonomy, among others.)
As of 2000, Canadaball is well-known and liked around the world for being the liberal and most friendly figure that he is.
Canadaball is a developed country and one of the wealthiest in the world, with the tenth highest nominal per capita income globally, and the ninth highest ranking in the Human Development Index. It ranks among the highest in international measurements of government transparency, civil liberties, quality of life, economic freedom, and education.
He is welcoming anybody that wants to escape the horror of his brother

USAball's 4-year-long insanity, and because

Trump won the presidency there, there are so many American refugees coming, that his immigration website crashed (Sorry, eh). Now

Donald Trump is starting a war over spilled milk and softwood.
Canadaball will co-host the 2026 FIFA World Cup together with

USAball and

Mexicoball.
Personality
He has a nice personality, but if you mess with him, he will gut you like a seal... Ironic that he is part French, eh? He knows that one day he will Anschluss

Greenlandball and

Alaskaball, but in a peaceful way. He currently has a major, perhaps blessing issue with a mass number of Chinese-Canadian Ball. He formerly removed Dim Sum through the Chinese Head Tax. Now he feels sorry for that, much like everything else. Not only this, he also made several apologized to LGBT people, Indigenous-Canadians Ball, Japanese-Canadian Ball and Indian-Canadian Ball.
His polite attitude leads him into a more stable relationship with commies such as

Cubaball; however, Canadaball has historically been (and still is) under

UKball's influence, this limits Canadaball's independent operations, as he is often teased for being weak and irrelevant, leading for Canadaball to be protected by

USAball and

NATOball.
Canadaball is stereotyped being the straight arrow brother of USAball. Well, everybody loves Canadaball, even the countryballs that hate USAball. He also loves Tim Hortons.
Flag Colors
Colour Name
RGB
CMYK
HEX
Red
255, 0, 0
C0-M100-Y100-K0
#FF0000
White
255, 255, 255
N/A
#FFFFFF
Relationships
Friends
Basically, anyone who is a family member or in the

UN,

EU, and

NATO: Particularly.
Neutral (Frenemies)
Chinaball - China gives me pandas and stuff for the museums. Only trouble I have with him is Xi Jinping censoring my news reporters when Trudeau visited him. Hey you need to stop with the tariffs on US Goods. I don't want to see another economic crisis happen so quickly. Remember what happened during the Great Depression. If things go spiraling downhill. You would be happy. But then who is the villain?
Enemies
Iranball - Our relationship is very strained and we don't like you starting a diplomatic crisis with the United States. And what's with holding my brother's people hostage, eh?
Saudi Arabiaball - You are a cruel kingdom who suppresses human rights. You imprisoned the Badawis which tells me you are a ruthless kingdom! Worse, after what Chrystia Freeland said to your king, you started both a economic and diplomatic war against me by freezing new trade, suspending flights to Toronto, freezing investments and ordering 15000 Saudi International students out of our country after I demanded that activists be freed. Man, I am gravely concerned about additional arrests of civil society and women's rights activists in #SaudiArabia, including Samar Badawi. We urge the Saudi authorities to immediately release them and all other peaceful #humanrights activists and put an end to this. What the hell did you do to your journalist you freak?
ISISball - WHY ARE YOU SO CRUEL TO CHILDREN? WHY MUST YOU GO ON A RAMPAGE AND KILL 2 INNOCENT CHILDREN IN TORONTO (Reese Fallon, 18, and 10-year-old Julianna Kozis) AND WOUND SO MANY?
Russiaball - Ah, you vodka sucker, you need to actually respect your own people. Ukraine is not your territory to conquer. Donetsk and Lugansk just can't be part of you. Even worse, you and China are demonstrating total aggression by doing threatening military exercises. Whats the good idea man? We can't be friends.
Belarusball - A puppet state who loves Russia and has a terrible dictator
USSRball - We were fine until NATO was born. Then he claimed that he was the best in the world at hockey! Well, you're not you commie poser! 1972, best day of my life! Canada is the best at hockey! Your son Russia is being a complete DICK.
Hawaiiball - Hawaii i'm ashamed of you. Why do you keep erupting and cause so much pain to your own people? You need to stop causing natural disasters before things get worse. Also, it's your own fault Italy hates you because you put pineapple on Pizza, who would do such a thing? Wait me? What are you talking aboot, I never would! (A Canadian Greek actually invented Hawaiian pizza)
Venezuelaball and South Sudanball - We targeting them with sanctions.
Wildires🔥🔥 - Burning Ontario with insane wildfires and creating a smog in Metro Vancouver ...We need to put an end to this! Forest fires will become more widespread and destructive if this does not stop!
Croatiaball You humilated my Father in the FIFA World Cup semi-finals. You made me cry.  But my mom ended up beating you so I'm happy now!
Donetsk Peoples Republicball You are nothing but a Russian puppet state. Zakarchenko deserved to die. Don't even try getting into the UN. Stay out of Ukraine. Your time will be over. Ukraine is better than Russia and you are a puppet. Now get your Russian soldiers out and rejoin Ukraine so we can have peace. Your a Ukrainian and you will always be Ukrainian.
Youtube: You just collapsed on me!
Family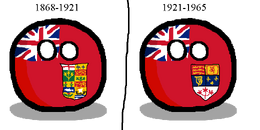 Parents/Guardians
Siblings
Children
Nephews
Provinces and Territories
Provinces
Albertaball - Canadian rednecks. Where we get our oil monies. Also where the Heartland TV show takes place. Currently, in hard times because of pipeline issues and unemployment issues.
British Columbiaball - Hippie potsmokers. Also soo many Chinese! More Chinese than First Nations wow. Your Chinese language is worsening your Français. It outpopulated French! Sad. :(

Vancouverball - Probably the most Chinese city outside of Asia (also hates Toronto because of the Toronto Maple Leafs).
Territories
Northwest Territoriesball - Used to have a crapton of clay, until we gave it to the provinces and Nunavut.
Nunavutball - They were like "hey guys, we want to separate from NWT", and we were like "okay". Also, wants to secede as well.
Yukonball - Only has one city, unless Dawson wants to become one since it was growing up fast.
Quotes
"Poutine"
"Maple syrup?"
"I'm sorry"
"Je suis désolé"
"Pardonnez-moi"
"O Canada!"
"Hockey"
"Free healthcare"
"Eh?"
"Fur"
TRUE NORTH
How to Draw
Drawing Canadaball is fun!
Divide the circle by red, white, then back to the red.
Draw the glorious red maple leaf in the middle.
Draw two eyes to finish him off. Eh?
Gallery
Artwork
Comics
Links

Related templates