This page requires sanitation.
This page needs more accurate, less vandalistic/biased information or better formatting, it would be much appreciated to help!
Brasilball é a maior bola de campo da América do Sul, representando o país inteiro. É uma quinta maior bola de futebol do mundo, por área geográfica e sexta maior país por população, com mais de 207 milhões de pessoas. É uma maior bola de campo lusófona do mundo e única nas Américas. Muitas vezes, seu lema é alterado de Ordem e Progresso (Ordem e Progresso) BR BR BR E HUE HUE HUE. O Brasilball tem uma rivalidade histórica e amigável com Argentinaball, muitas vezes com HUEING e fazendo piadas sobre a Argentina. Também é muito bom no futebol, onde semper se classificou na Copa do Mundo da FIFA desde 1930.
He has high aspirations of becoming a world power, and has invested large amounts of money on sporting events to demonstrate his incredible potential, although this has brought more problems than benefits.
Brazilball is a member of the G20 (or Group of Twenty), a club formed by the countryballs that have the 19 largest economies plus the
EUball. In fact, he has the largest economy in Latin America.
Brazilball is divided into 26 statesballs, plus the Federal District. Each state has its own laws, regulations and police, similar to the USAball.  The

Brazilian Empireball was originally a unitary countryball, but after the republican coup d'état in 1889 the provinces of the Empire became federal states of the Republic.
His national day is in September 7. His astrological sign is Virgo. He is of stronk! Only in South America.
In 2011,

Brazilball was into female leadership Not anymore hue.
Personality
He was known for his hyper, energetic, confident, optimistic, cheerful personality that was friendly to everyone, complemented by his athletic body that he loves to show off when dancing the national dance, the samba. Though, he can become too happy and loud and lose all manners to start a HUE party. As Brazilball is friendly to everyone, he doesn't have much known enemies than the friends, but if a countryball could be hostile with Brazilball, he can be a powerful opponent, for example when in January 1835, Brazil can into removings

Yam.
And also he likes soccer a lot, what makes you relationship be cold since your 7x1 with

Germanyball, but he defeated him in the Olympics of Rio 2016 and now is all ok.
Apparently, Brazilball believes he can into the sport of curling, he has challenged

Canadaball for a spot at the 2018 world men's championships in

Las Vegasball.
History
Brazilball was born as

3ball, and lived in peace until 1500, when

Kingdom of Portugaball came and showed a mirror, Brazil loved the mirror, so he let Portugalball adopt him, and then, he became

Portuguese Brazilball.
Invasions!
Spanish Empireball saw everything and started trying to negotiate with Portugalball to get Brazil's guard. However, Portugalball denied, and a tension started between the two iberian brothers. A War was just a matter of time .... But, the two brothers signed a treaty, and Brasiball's Clay was divided in Portuguese and Spanish control, meanwhile the Brazilball was planting sugar cane with the work of 8ball, your slave.
Meanwhile, in Europe,

Netherlandsball was poor and did not have any colony, so he dicided to invade Brazilball's clay and take to himself, Portugalball got pissed, and crushed the Dutch and kicked him out of South America,

Franceball also tried to invade Brazilball, and Portugal crushed him too, Portugal bravely fought to defend his biggest son.
Hue Independence, or death!
In 1700, Portugalball send the Treaty to hell, and started to expand the now miner Brazilball's territories,

Spainball didn´t care about it, and Brazil started to get even more huge and rich, ...
In the mid of 1800,

Franceball was raping everyone in Europe, Portugal was scared about this, so he fleed to his son's clay, and turned him a part of the Portuguese Empire. However, Brazilball was inspired by the colonies rebelling against their fathers after the Liberal Revolution, so he decided a plan to attack his father and become a fully independent country.
In Setember 7 of 1822, Brazilball attacked his father and kicked him of his clay and becamed

Brazilian Empireball.
Imperial Days
In his early days as an independent country, Brazilball was already of stronk, raping a lot of neighbors such as

Argentinaball and his son

Uruguayball (A.K.A Cisplatinaball ), and a lot of rebellious provinces.
In the mid of 1864,

Paraguayball tried to invade him, Brazilball then, formed an alliance with

Argentinaball and

Uruguayball, and together they defeated Paraguayball. After this, he became even more stronger, even challenging
UKball to a war.
He had years of glory, and in November 15, 1889 throughout a coup d'état he became the First Brazilian Republic with the Proclamation of the Republic.
Vargas Regime
In 1930, after killing some dolphins Brazilball was at war with himself in a revolution that will depose the original republic to be further replaced with a totalitarian dictatorship led by one Getulio Vargas, this revolution became a success in 1945. But after the founding of Braziliaball, a Military Dictatorship lasted for 21 years and marked one of Brazil's best period of economy and worst after too.
Modern Days
After the proclamation of the republic, he became a more peaceful country, giving 0% to wars, only caring about HUE. in WW2 he raped

Kingdom of Italyball and some

Nazi Germanyballs too. Today, Brazilball stronks in soccer, and will continue with his HUE until the end of the universe, but he is poor now. He loves the 2016 RIO games
Relationships
It's common to see Brazilball portrayed talking to its states and the Federal District. Brazilball is not very concerned about politics most of the time, only caring about HUE and HUELITCS(political memes).
Sons
Acreball - Is unnoticed by most countryballs, including Brazil. Most times, Acreball will start talking while no one pays attention to it; on many comic strips, Acreball disappears and Brazilball ignores it, like he does not exist. Also, Boliviaball may start to complain about Acreball, yet the rest of the countries won't know what he's fucking about. The reason for this is because of a Brazilian inside joke about how Acre does not exist. Long ago, Acre was partitioned between Boliviaball in the east and Peruball in the west. Nowadays, the existence of Acreball is more accepted by most of Center-West, Southeast and South regionballs and many Brasilian stateballs claim that is where dinosaurs and UFOs are currently hiding.
Rio Grande do Sulball - Is the rebel son of Brazilball. Wants to be independent along with Paranáball and SCball (Santa Catarina), his younger brothers. Became independent by a brief moment, but lost the Ragamuffin War. It is mostly depicted as gay, because of a cultural joke (in 19th century and early 20th century rich farmers would send their sons to study abroad in Europe, where they ended up getting aculturated and coming back a little "different").
Friends
Neutral
Enemies
How to draw
Drawing a Brazilball is very simple.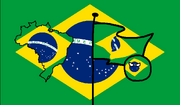 After drawing the base circle, color it of a green like
here
Draw inside it a smaller losangle, color it of a yellow like here
Draw inside it a smaller circle, color it of a blue like here
Draw inside blue circle a small white strip
Draw some hue (optional)
Draw the two eyes and you've finished
Quotes
"Without HUE, there is no BR."
"HUEHUEHUEHUEHUEHUEHUE"
"Gib monies plox"
"The power of HUE be with yuo"
"HUEHUEHUE for HUE Life
Come to Brazil !
Algum BR ?
HUEHUE BR
Foda-se(f*ck it)
Gallery
Artwork
Comics
Links
Ad blocker interference detected!
Wikia is a free-to-use site that makes money from advertising. We have a modified experience for viewers using ad blockers

Wikia is not accessible if you've made further modifications. Remove the custom ad blocker rule(s) and the page will load as expected.