"
Independência ou Morte!
"
 

— Dom Pedro
"
HUEHUEHUEHUE!
"
 

—

 Brazilball
Brazilball, officially Federal Republic of Brazil is a sovereign state and federal republic in South America. He is made up of 26 federal states and 1 federal district being his capital Brasiliaball, giving him a total area of 8.5 million square kilometers and making him the fifth-largest country in the world. He is the most populous country in South America,and the second most populous country in the Americas, and is the fifth most populous country in the world with 207.000.000 people, and is the thirty-second most popular human migration destination.
He is a member of

 BRICS,
OAS, and the

United Nations. Brazil is also a major non-NATO ally in South America along with

 Argentinaball. With his growing economy, he has been able to join the G20 (or Group of Twenty), a club made up of only the 19th largest economies in the world and the

EU .
Brazil is often portayed as a potential superpower, due to his large influence. With his enormous amount of natural resources, including a tenth of the world's fresh water, the largest remaining rainforest, and a valuable supply of ores and minerals, Brazil seems all set to lead the way in tackling the environmental problems we face. However in terms of military power, he lacks many of the sufficient military resources required for becoming the next superpower, despite being the strongest country in South America. Recently, he ran into problems with truck drivers.
His national day is September 7th.
Personality
He was known for his hyper, energetic, confident, optimistic, cheerful personality that was friendly to everyone, complemented by his athletic body that he loves to show off when dancing the national dance, the samba. Though, he can become too happy and loud and lose all manners to start a HUE party. As Brazilball is friendly to everyone, he doesn't have much known enemies than the friends, but if a countryball could be hostile with Brazilball, he can be a powerful opponent, for example when in January 1835, Brazil can into removings

Yam.
And also he likes soccer a lot, what makes you relationship be cold since your 7x1 with

Germanyball, but he defeated him in the Olympics of Rio 2016 and now is all okay.
Apparently, Brazilball believes he can into the sport of curling, he challenged

Canadaball for a spot at the 2018 world men's championships in

Las Vegasball (Canadaball swept him in three games).
History
Brazilball was born as

3ball, and lived in peace until 1500, when

Kingdom of Portugalball  arrived with Pedro Álvares Cabral and claimed that Brazil was part of Portugal. Portugalball adopted him, and then, he became

Portuguese Brazilball.
Invasions! ( 1500 )

Spanish Empireball saw everything and started trying to negotiate with

Kingdom of Portugalball to get Brazil's guard. However, Portugalball denied, and a tension started between the two iberian brothers. A War was just a matter of time .... But, the two brothers signed a treaty, and Brasiball's Clay was divided in Portuguese and Spanish control, meanwhile the Brazilball was planting sugar cane with the work of 8ball, your slave.
Meanwhile, in Europe,

Netherlandsball decided to invade Brazilball's clay and take to himself,but Portugal prevented this from happening.

Franceball also tried to invade Brazilball, and Portugal crushed her too.Portugal bravely fought to defend his biggest son.
Hue Independence, or death! ( 1700 - 1822 )
In 1700, Portugalball signed the Treaty to hell, and started to expand the now minor Brazilball's territories,

Spainball didn't care about it, and Brazil started to get even more huge and rich, ...
In the mid of 1800,

Franceball was raping everyone in Europe, Portugal was scared about this, so he fled to his son's clay, and turned him into part of the Portuguese Empire. However, Brazilball was inspired by the colonies rebelling against their fathers after the Liberal Revolution, so he decided a plan to attack his father and become a fully independent country.
In September 7 of 1822, Brazilball attacked his father and kicked him of his clay and became

Brazilian Empireball.
Imperial Days ( 1822 - 1889 )
In his early days as an independent country, Brazilball was already of stronk, raping a lot of neighbors such as

Argentinaball and his son

Uruguayball (A.K.A Cisplatinaball), and a lot of rebellious provinces.
In 1825 , when Cisplatinaball declared independence, Brazil declared war on Argentina, starting the Cisplatine War. 

UKball interrupted and made Cisplatinaball an independent country,and 

Uruguayball was created.In 1851, he won the Platinean war against

Argentinaball
In the mid of 1864,

Paraguayball tried to invade him, Brazilball then, formed an alliance with

Argentinaball and

Uruguayball, and together they defeated Paraguayball during the Paraguayan War. After this, he became even more stronger, even challenging

UKball to another war.
He had years of glory, and in November 15, 1889 throughout a coup d'état he became the First Brazilian Republic with the (coup d'etat) Proclamation of the Republic.
This was the result of a political-military uprising that started the Presidential Federative Republic. The figure of Marechal Deodoro da Fonseca is marked as responsible for the effective proclamation and as the first President of the Brazilian Republic in a provisional government (1889-1891)
First Republic (1889 - 1930)
Initially, the republic was a centralized and authoritarian military dictatorship, ruled by the perpetrators of the coup. In 1891, a new constitution created the United States of Brazilball, a democratic state. However, this democracy was just an illusion, as the presidency alternated between rural landowners from

São Pauloball and

Minas Geraisball. In order to maintain this political scheme, elections were frequently rigged and, in rural areas, people were even forced to vote on a specific candidate. However, after an economic crisis caused by excessive amounts of coffee and popular discontent with the falsified elections, a revolution erupted.
In 1896,an conflict started between the state of Brazil and some settlers who had founded a community named "Canudos" in the northeastern state of

Bahiaball.
The great ranchers of the region began a strong pressure group with the recently installed Republic, requesting that measures be taken against the community. After a number of unsuccessful attempts at military suppression, it came to a brutal end in October 1897, when a large Brazilian force overran the village and killed nearly all the inhabitants of the region.
Vargas Regime ( 1930 - 1945 )
In 1930, after killing some dolphins in WW1, Brazilball was at war with himself in a revolution that would depose the original republic, and be replaced with a totalitarian dictatorship led by his newest president Getulio Vargas.
The elections for the President of the Republic were held. This election gave victory to ruling candidate Julio Prestes. Prestes, however, did not take office. The Liberal Alliance (name given to the allied states of

Minas Geraisball,

Rio Grande do Sulball and other states) refused to accept the validity of the elections, claiming that the victory of Julio Prestes was due to fraud.
Getúlio Vargas took advantage of this to use it in its favor, blaming the opposition, as well as the economic crisis accentuated by the crisis of 1929; so the indignation increased, and the Brazilian army began to mobilize and formed a governmental junta composed of army generals. Julio Prestes was deposed  and the power then was passed to Getúlio Vargas putting an end to the Old Republic.
During WW2, Vargas initially adopted a neutral stance, but shifted to the allied powers after some Brazilian ships were sunk by German submarines. During this time, Brazilball contributed to the war effort by providing a small expeditionary force to fight in

Kingdom of Italyball, fighthing with some

Nazi Germanyballs too.
Many economic changes were done in that era, leading to a development of the economy from Brazil.
Second Republic (1946 - 1964)
After the end of the war, Vargas would not remain in the presidency for too long. He was deposed and, in 1946, democracy returned to Brazil. This, however, would be Brazilball's most unstable days, with only two of the presidents serving their full terms. Vargas attempted to return to power, but committed suicide due to political pressure. It was also during this era that

Brasiliaball was built.
Military dictatorship (1964 - 1985)
Using the pretext of removing commies, the military staged a coup and took power. Initially, the officers wanted to give power back to the civilians once the mess was cleaned, but a hardline faction of the army wanted to stay in power. Thus, the dictatorship issued many authoritarian institutional acts that strengthened its power and sided with

USAball during the Cold War. However, many communists were unsatisfied with the new regime and started numerous guerillas. It was only with the "election" of the last two military presidents, who were also reformists, that democracy began to return gradually to Brazil. It was also during the military regime that the country's biggest economic growth happened, although many think that, in the long term, this caused more harm than good to Brazilball.
Modern Days
After the proclamation of the republic, he became a more peaceful country, giving 0% to wars, only caring about HUE. He had a little conflict with

France. Today he will continue with his HUE until the end of the universe, but he is poor now. Brazil is the most successful national team in the FIFA World Cup, the main football international competition, being crowned winner five times and having the best overall performance. They have been a member of FIFA since 1923, and hosted the world cup two times. In 2016, he hosted the Olympics on

Rio de Janeiroball.
It's common to see Brazilball portrayed talking to its states and the Federal District. Brazilball is not very concerned about politics most of the time, only caring about HUE and HUELITCS (political memes).
Flag Colors
Main Colors
Color Name
RGB
CMYK
HEX
North Texas Green
0, 155, 58
C100-M0-Y63-K39
#009B3A
Yellow (Pantone)
254, 223, 0
C0-M12-Y100-K0
#FEDF00
Emblem Colors
Color Name
RGB
CMYK
HEX
Catalina Blue
0, 39, 118
C100-M67-Y0-K54
#002776
White
255, 255, 255
N/A
#FFFFFF
Relationships
Friends
Neutral
Enemies
Sons
Family
Parents/Guardians
Siblings
Cousins
Sons
How to draw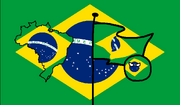 Drawing a Brazilball is very simple. After drawing the base circle, color it of a green like here
Draw inside it a smaller losangle, color it of a yellow like here
Draw inside it a smaller circle, color it of a blue like here
Draw inside blue circle a small white strip
Draw some hue (optional)
Draw the two eyes and you've finished
Quotes
"Without HUE, there is no BR."
"HUEHUEHUEHUEHUEHUEHUE"
"Gib monies plox"
"The power of HUE be with yuo"
"HUEHUEHUE for HUE Life
Come to Brazil !
Algum BR ?
HUEHUE BR
Foda-se(f*ck it)
EAE MEN KK
I HAVE 5 WORLD CUPS
Deixe me ir, preciso andar, vou por aí a procurar, sorrir para não chorar (Brazilball when sad)
We are the country of memes and ´´ZUEIRA HUEBR´´
The Brazilian needs to be studied
Brazilian never give up
Nosso ritimo é esse aqui hein.
Gallery
Artwork
Comics
Links

Related templates