"
Independência ou Morte!
"
 
"
HUEHUEHUEHUE!
"
 

—

 Brazilball

's catchphrase
Brazilball, officially Federative Republic of Brazil is a sovereign state and federal republic in South America. He is made up of 26 federal states and 1 federal district being his capital

Brasiliaball, giving him a total area of 8 and a half million square kilometers and making him the fifth-largest country in the world. He is the 8th economy of the world, the most rich of Latin America and the second in the Americas. He is the most populous country in Latin America, and the second most populous country in the Americas, and is the fifth most populous country in the world with 208.000.000 people,has the 14th strongest armed forces, and stand is the thirty-second most popular human migration destination. He is a very multicultural and multiethnic, all resulting of the syncretism and mix of different people.
He is a member of

 BRICS,
OAS, and the

United Nations. Brazil is also a major non-NATO ally in South America along with

Argentinaball. With his growing economy, he has been able to join the G20 (or Group of Twenty), a club made up of only the 19th largest economies in the world and the

EU. He is pratically the most powerful country in the Americas after

USAball, alongside with

Canadaball
Brazil is often portayed as a potential superpower, due to his large influence. With his enormous amount of natural resources because of his territory and large population, including a tenth of the world's fresh water, the largest remaining rainforest, and a valuable supply of ores and minerals like the third reserve of oil in the Americas and  sixth country of uranium reserve, Brazil seems all set to lead the way in tackling the environmental problems we face, but still face problems of political corruption, social problems (low quality of public services and criminality alongside violence) and high tax burder. However in terms of military power, it possesses remarkable military resources, so much so that it is the fourteenth largest military power in the world and being the strongest country in Latin and South America, is the second military power in Americas. Recently, he ran into problems with truck drivers.
His national day is on September 7th. His astrological sign is Virgo.
Personality
He was known for his hyper, energetic, confident, optimistic ,persevering, hospitable, culturally rich, festive, funny, creative, bizarre, happy, lazy but still hardworker, trickster, half corrupt and football lover and has a cheerful personality that is friendly to everyone, complemented by his athletic body that he loves to show off when dancing the national dance, the samba. Is a very Festive ball because of the Carnival, and has a lot of natural beauties like Beaches and the Amazon Forest. Though, he can become too happy and loud and lose all manners to start a HUE party. And is a very funny ball because of his  HUEBR memes. He is one of the most  high personal hygienes ball As Brazilball is friendly to everyone, he doesn't have as much known enemies than friends, it is one of the few countries that maintains stable diplomatic relations with almost all the balls, but if a countryball could be hostile with Brazilball, he can be a powerful opponent, for example when in January 1835, Brazil can into removings

Yam. And all the conflits that Brazil was involved he won, except the case of Cisplatine War, but this war doesn´t have winners, and the last country who tried to invade Brazil is in difficult situation until today becuase of Paraguayan War. Despite everything, he has problems of self-esteem due to his dificulties, despite his qualities, he complain a lot more than he is proud (although he has enough reasons to complain)
And also he likes soccer a lot, is the ball which has 5 World Cups, 4 Confederations Cups, 8 Copa Américas, which made his relationship be cold since his 7x1 with

Germanyball,but he defeated him in the Olympics of Rio 2016 and now is all okay. And a little with Uruguayball because of 1950 Maracanazo.
Apparently, Brazilball believes he can into the sport of curling, he challenged

Canadaball for a spot at the 2018 world men's championships in

Las Vegasball (Canadaball swept him in three games).
History
Brazilball was born as

3ball, and lived in peace until 1500, when

Kingdom of Portugalball arrived with Pedro Álvares Cabral and claimed that Brazil was part of Portugal. Portugalball adopted him, and then, he became

Portuguese Brazilball.
Invasions! (around 1500)

Spanish Empireball saw everything and started trying to negotiate with

Kingdom of Portugalball to get Brazil's guard. However,

Kingdom of Portugalball denied, and a tension started between the two Iberian brothers. A war was just a matter of time .... But, the two brothers signed a treaty.

Kingdom of Portugalball and

Spanish Empireball signed in 1494 the Treaty of Tordesillas, an agreement to divide the South American territories conquered by the two countries during the great navigations,and Braziball's Clay was divided in Portuguese and Spanish control, meanwhile, Brazilball was planting sugar cane with the work of

8ball, his slave.
Meanwhile, in Europe,

Dutch Empireball decided to invade

Brazilball's clay and take to himself, but

Kingdom of Portugalball prevented this from happening.

Franceball also tried to invade

Brazilball, and

Kingdom of Portugalball crushed her too.

Kingdom of Portugalball bravely fought to defend his biggest son.
Hue Independence, or death! (1700 - 1822)
In 1700,

Kingdom of Portugalball signed the Treaty to hell, and started to expand the now minor Brazilball's territories,

Spanish Empireball didn't care about it, and

Brazilball started to get even more huge and rich, ...
In the mid of 1800,

Franceball was raping everyone in Europe,

Kingdom of Portugalball was scared about this, so he fled to his son's clay, and turned him into part of the Portuguese Empire. However,

Brazilball was inspired by the colonies rebelling against their fathers after the 1820 Liberal Revolution, so he decided a plan to attack his father and become a fully independent country.
On January 9, 1822, D. Pedro I (Brazilball's first emperor) received a letter from the courts of
Lisbonball, demanding his return to

Kingdom of Portugalball. The Portuguese had long insisted on this idea, since they intended to recolonize Brazil, and the presence of Dom Pedro impeded this ideal. However, D. Pedro responded negatively to the calls of

Kingdom of Portugalball, who later received a new letter from

Kingdom of Portugalball that cancelled the Constituent Assembly and demanded his immediate return to the metropolis. This news reached the hands of D. Pedro I, who he raised his sword and marked the Independence of Brazil.
In September 7 of 1822, Brazilball got it's independence and become 

Brazilian Empireball.
Imperial Days (1822 - 1889)
In his early days as an independent country,

Brazilball was already of stronk, raping a lot of neighbors such as
United Provinces of the Río de la Plataball and his son

Uruguayball (A.K.A

Cisplatinaball), and a lot of rebellious provinces.
In 1825, when

Cisplatinaball declared independence,

Brazilball declared war on
United Provinces of the Río de la Plataball, starting the Cisplatine War.

UKball interrupted and made

Cisplatinaball an independent country, and

Uruguayball was created. In 1851, he won the Platinean war against

Argentine Confederationball.
In the mid of 1864,

Paraguayball tried to invade him,

Brazilball then, formed an alliance with

Argentinaball and

Uruguayball, and together they defeated

Paraguayball during the Paraguayan War. After this, he became even more stronger, even challenging

UKball to another war.
Around 1875, a immigration period starts on Brazil. 

 Italians, 

 Spaniards,

 Germans and

 Japanese come to

Brazilball to work in coffee plantations and industries.
A lot of rebellions occurred inside 

Brazilball during the period of 1831-1840 . The most important were the Cabanagem (1835-1840), the Balaiada (1838-1841),Ragamuffin War (1835-1845), and the Sabinada (1837-1838).
On May 13, 1888, Princess Isabel, the presumptive heir of the Empire of Brazil, signed a law that abolished


slavery in

Brazilball, who was in force for about three centuries, from the beginning of colonization to the signing of this law.
Brazilball had years of glory, and in November 15, 1889 throughout a coup d'état he became the

First Brazilian Republic with the (coup d'etat) Proclamation of the Republic.
This was the result of a political-military uprising that started the Presidential Federative Republic. The figure of Marcehal Deodoro da Fonseca is marked as responsible for the effective proclamation and as the first President of the Brazilian Republic in a provisional government (1889-1891).
First Republic (1889 - 1930)
Initially, the republic was a centralized and authoritarian military dictatorship, ruled by the perpetrators of the coup. In 1891, a new constitution created the

United States of Brazilball, a democratic state. However, this democracy was just an illusion, as the presidency alternated between rural landowners from

São Pauloball and

Minas Geraisball. In order to maintain this political scheme, elections were frequently rigged and, in rural areas, people were even forced to vote on a specific candidate. However, after an economic crisis caused by excessive amounts of coffee and popular discontent with the falsified elections, a revolution erupted.
In 1896, a conflict started between the state of Brazil and some settlers who had founded a community named "Canudos" in the northeastern state of

Bahiaball.
The great ranchers of the region began a strong pressure group with the recently installed Republic, requesting that measures be taken against the community. After a number of unsuccessful attempts at military suppression, it came to a brutal end in October 1897, when a large Brazilian force overran the village and killed nearly all the inhabitants of the region.
The cycle of the First Republic comes to an end with the coup of 1930, when a guy named Getúlio Vargas assumed the presidency.
Vargas Regime (1930 - 1945)
In 1930, after killing some Porpoises in Porpoises Battle in Gibraltar channel in World War I,

Brazilball was at war with himself in a revolution that would depose the original republic, and be replaced with a totalitarian dictatorship led by his newest president Getúlio Vargas.
The elections for the President of the Republic were held. This election gave victory to ruling candidate Julio Prestes. Prestes, however, did not take office. The Liberal Alliance (name given to the allied states of

Minas Geraisball,

Rio Grande do Sulball and other states) refused to accept the validity of the elections, claiming that the victory of Julio Prestes was due to fraud.
Getúlio Vargas, another canditate, took advantage of this to use it in its favor, blaming the opposition, as well as the economic crisis accentuated by the crisis of 1929; so the indignation increased, and the Brazilian army began to mobilize and formed a governmental board composed of army generals. Julio Prestes was deposed and the power then was passed to Getúlio Vargas putting an end to the Old Republic.
At 1937, Getúlio Vargas installed a totalitarian dictatorship called Estado Novo which ideals were inspired in Facist Italy.
During World War II, Getúlio Vargas initially adopted a neutral stance, when USA get into war, they were preocupated of the countries in the rest of Latin America get into Axis, and started the good neighbor policy with all praticaly improving economics and diplomatics relationships and preseting their cultures, especially with Brazil, because the regime was similar to Italy and Germany, but in 1942 shifted to the allied powers after some Brazilian ships were sunk by German submarines just like World War I. During this time, Brazilball contributed to the war effort by accepting USA to construct an Air Bases at the Nordeste region to North Africa Campaing, and at 1944 providing a small expeditionary force to fight in

Kingdom of Italyball, fighting with some

Nazi Germanyballs too, along with

USAball who helped with him with military resources and training. But Brazil surprised the expectations, had an outstanding peformance and some importance on that area in the war.
Many economic changes were done in that era, leading to a development of the economy from

Brazil.
Second Republic (1946 - 1964)
After the end of the war, Getúlio Vargas would not remain in the presidency for too long. He was deposed, and in 1946,

democracy returned to

Brazil. This, however, would be Brazilball's most unstable days, with only two of the presidents serving their full terms. Getúlio Vargas attempted to return to power, but committed suicide due to political pressure. It was also during this era that

Brasiliaball, his capital, was built.
Military Regime (1964 - 1985)
In its term as vice-president, João Goulart wasn't interested in anything other than in visiting

Chinaball for a ´´diplomatic mission´´ and passing laws that were intended to make

Brazilball much more like

Cubaball during the middle of the Cold War, plus there were army rebellions happening all the time and evidence that the cuban government was intervening in a

military way in Brazil.

São Pauloball and former Guanabaraball (now capital of 

Rio de Janeiroball) plus Civil society got to the streets demanding the deposition of João Goulart and his cousin who had literally connections with

Soviet Unionball agents. Listening to the popular demands the military planned an intervention to take place in the first week of april but

Minas Geraisball  anticipated the coup a week and gone alone with only a few tanks to take power, what could've result in a bath of blood but some say predicted the government self coup that was planned a week after. The government of President João Goulart was deposed and the military regime began a few days later after the parliamentary election of Castello Branco as president.
The military occupied the streets on March 31, 1964. And on April 2 congress deposed João Goulart. After the intervention, the president decided to take refuge in

Uruguayball and the next day the military took over the government of the country.
The

dictatorship issued many authoritarian institutional acts that strengthened its power and sided with

USAball during the Cold War.
However, many

communists were unsatisfied with the new regime and started numerous guerillas. It was only with the "election" of the last two military presidents, who were also reformists, that

democracy began to return gradually to

Brazilball.
It was also during the military regime that the country's biggest economic growth happened, although many think that, in the long term, this caused more harm than good to

Brazilball.
Each president had their own style to govern but the most excentric one was from the fourth, Geisel, because he was a bit oriented by former dictator Getúlio Vargas ideals. Before taking office as president he worked as the secretary over the Mining and Energy ministry under Emílio Garrastazu Médici, during this when the chance to sell state-run Petrobras fell on his lap, a little before the oil crisis in 1974, he strongly rejected it. Worst of all, this "macaco with germanic" descendence became the next president because jobs were pouring in from Médici's term and he was seen as a democratic reformist (wich is a nice way to call a leftist), congress thought he would give a good military president against the other candidate from civil party MDB that voted in favour of the military in 1964 and elected again the military guy but by a fair majority (400 votes against 76 his adversary), shameful mistake. ​​​Between other amazing decisions he did was to recognize

chinese government, re-establish relations with

Soviet Unionball and give armed aid to

Cubaball anschluss 

Angolaball to the

Soviet Unionball.
The end of the military dictatorship in

Brazil happened in the year 1985, stimulated by some movements and inflamed by the great displeasure of the population by the high inflation and recession that the country faced.
Tancredo Neves was the first civilian to get elected in 24 years. He did not take office because he died due to health problems. That is why the vice-president, José Sarney, took office and ruled the country until 1990.
The first election after the end of the military regime in 

Brazil happened on November 15, 1989. Fernando Collor was the president-elect. Collor, however, was removed from office after accusations of corruption. He was succeeded by Itamar Franco, his vice-president.
This period divide the opnions and have a lot of controversies, because some people love it, another hated it.
Modern Days (1985 - present)
After the proclamation of the republic, he became a more peaceful country, giving 0% to wars, only caring about HUE. Today he will continue with his HUE until the end of the universe.
Brazil is the most successful national team in the FIFA World Cup, the main football international competition, being crowned winner five times and having the best overall performance. They have been a member of FIFA since 1923, and hosted the world cup two times. In 2016, he hosted the Olympics on

Rio de Janeiroball.
It's common to see

Brazil portrayed talking to its states and the

Federal District.

Brazil is not very concerned about politics most of the time, only caring about HUE and HUELITCS (political memes). But now he is on a political crisis by corrupts scandals who are investigated on ´´Operation Lava Jato´´ envolving bribes schemes with giant companies like Petrobras, JBS and Odebretch, the last one is envolved with the most bribe payment of all history of entire world. In this investigation the ex-president, Lula, who governated in the period of (2003-2010) was arrested in 2018 for ideological falsehood in a purchase of site in the city of Atibaia and a triplex in the city of Guarujá.
Flag Colors
Main Colors
Colour Name
RGB
CMYK
HEX
North Texas Green
0, 155, 58
C100-M0-Y63-K39
#009B3A
Yellow (Pantone)
254, 223, 0
C0-M12-Y100-K0
#FEDF00
Emblem Colors
Colour Name
RGB
CMYK
HEX
Catalina Blue
0, 39, 118
C100-M67-Y0-K54
#002776
White
255, 255, 255
N/A
#FFFFFF
Relationships
Friends
Neutral
 Germanyball - I have several descendants of Germans living in the states of Rio Grande do Sulball, Santa Catarinaball and Paranáball. FUCK YOU, 7-1 I will never forget! Wait... got my revenge in 2018! HUEHUEHUEHUEHUE!!! Gib car (Volkswagen, Audi and BMW) and attend parties plox!!! But remove beer, the negócio is Cachaça!!!
Paraguayball - HE HATES ME BECAUSE OF MY GLORIOUS VICTORY ON PARAGUAYAN WAR, HUEHUEHUEHUEHUE!! But he sell really cheaps things! and he have the Itaipu hidraulic usine, but he removed Lugo, another impeachment buddy.
Venezuelaball - We are cousins and neighbors on South America we are considerably friends, BUT WHY DO YOUR FUCKING IMMIGRANTS ARRIVE IN  Roraimaball EVERY DAY??? THIS IS ALL YOUR BLAME!!! YOUR DEFORMED COMMIE DICTATOR OF MERDA, REMOVE MADURO!!! REMOVE BOLIVARIANISM!!! WE TRIED TO HELP YOUR CRISIS, GIVING YOU REMEDIES AND YOU REFUSES!!!  AND STOP COMPLAINING, LULA WILL REMAIN IN JAIL!
Enemies
Sons
Family
Parents/Guardians
Siblings
Cousins
Sons
How to draw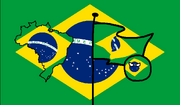 Drawing a Brazilball is very simple. After drawing the base circle, color it of a green like here
Draw inside it a smaller losangle, color it of a yellow like here
Draw inside it a smaller circle, color it of a blue like here
Draw inside blue circle a small white strip
Draw some hue (optional)
Draw the two eyes and you've finished
Quotes
"Without HUE, there is no BR."
"HUEHUEHUEHUEHUEHUEHUE"
"Gib monies plox"
"The power of HUE be with yuo"
"HUEHUEHUE for HUE Life
Come to Brazil !
Algum BR ?
HUEHUE BR
Foda-se(f*ck it)
EAE MEN KK
I HAVE 5 WORLD CUPS
Deixe me ir, preciso andar, vou por aí a procurar, sorrir para não chorar (Brazilball when sad)
We are the country of memes and ´´ZUEIRA HUEBR´´
The Brazilian needs to be studied
Brazilian never give up
Nosso ritimo é esse aqui.
Brazilian (BR) doesn´t dominate the world because he doesn´t want.
Gallery
Artwork
Comics
Links