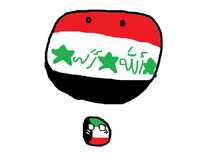 Ba'athist Iraqball or Iraqi Republicball was a state of Iraq between 1968 and 2003. He was a warmongering countryball and liked 9/11 but he would pay the price after invading Kuwait in 1990, kicking off the Gulf war.
Relations
UKball -Adoptive Grandad which i hate he is a evil empire and attacked me 1991 after USAball joined.
Syriaball -Puppet of the Ruski but fellow Arab and my cousin, he likes all kebab. My Ba'athisim is true!