Armeniaball (Հայաստան գնդակը; IPA: /hajastan gəndakə/) is an ancient countryball located next to Turkeyball, Georgiaball (the European one), Azerbaijanball, and Iranball. It's known for having issues with Kebab over the years. Cannot into European Union because Russiaball said no, so instead is into Eurasian Union. He is also a member of CSTOball. Armenia also can into pretty and unique Elvish alphabet.
Religion
Edit
95% of the population is Christian. Worth mentioning that Armenia is known to be the first state to adopt Christianity as religion. Has his own sect of Christianity called Armenian Apostolic. There are thousands of churches on his clay. He has one functioning mosque for the whole country built when Persiaball ruled him, mostly only used by Iranball tourists. And the one pagan temple of his that wasn't destroyed by Christians is occasionally used by a small sect of neopagans.
Armeniaball first mentioned by Persiaball in 500's BC, his clay appearing in world's oldest map. He emerged when his father Urartuball died. He has had many incarnations, relatives and ancestors since then, as can be read on other pages. Modern Armeniaball was into independence in 1991 after Sovietball died. He was still of badly damaged by 1988 earthquake, and by fighting with Azerbaijanball over his brother Artsakhball, and his economic state was worse because Azerbaijanball and his longtime enemy Turkeyball blockaded his borders. 1990's were not kind to him, he had no electricity and was busy with war. But it is of thanks to his friendship with Iranball and Georgiaball that he is of survived, as well as because of his diaspora. Although the war with Azerbaijan ended with ceasefire in 1994 (but not really since they still shoot at each other), Artsakhball is more or less independent. Azerbaijanball attacked him again in April 2016 in a renewed war, but was pushed back after four days, eventually bringing back the (poorly kept) ceasefire and failing to take over the clay.
Relations
Edit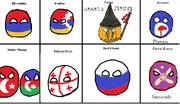 Artsakhball - Armenia's little kebab remover brother. Declared independence in 1991, but no countryballs of recognizing it other than me, only other unrecongized balls and some US stateballs. 
Javakhkball - Armenia's other little brother that is staying with Georgiaball, getting ripe for annexation. 
Hamshenball - Armenia's Islamic little brother that got lost during the Armenian Genocide and is now in Turkey and have severe identity problems. 
Armenian Kingdom of Ciliciaball - Another Armenian kingdom who was badass and a crusader. His arch-enemy was Mamlukball, and he was into friendship with Mongoliaball.
Urartuball - Armenia's father, who died a long time ago and was rivals with Assyriaball.
Nairiball - Armenia's mother, a tribalball who married and joined Urartuball.
Phrygiaball - Possibly Armenia's grandfather, or at least Ancient Greeceball seemed to think so.
Hayasa-Azziball - Other grandfather (he is where the "Haya" in "Hayastan" originates).
His eleven provinceballs, which are like his children.
Friends:
Edit

Turkeyball - Իմ վատագույն թշնամին վորին ես մաման էմ քունել OH, YUO ARE THE ABSOLUTE WORST!!!! REMOVE KEBAB! REMOVE KEBAB YUO ARE WORST TURK! HOW DARINGS YUO ATTACKINGS ME AND MAKINGS GENOCIDE AND DENYING HISTORY?! REMOVE KEBAB FROM GLORIOUS GREEK, KURDISH AND ARMENIAN LANDS! RETURN OUR LANDS AND MOST OF ALL RETURN THE GLORIOUS CITY OF CONSTANTINOPLE! FALL OF OTTOMAN, BEST DAY OF MY LIFE! REMOVE KEBAB FROM PREMISES!!! WE WILL ONE DAY TAKE REVENGE AND REMOVE YUO BACK WHERE YUO CAME FROM! 1916 WORST DAY OF MY LIFE!!!!

Related templates
Ad blocker interference detected!
Wikia is a free-to-use site that makes money from advertising. We have a modified experience for viewers using ad blockers

Wikia is not accessible if you've made further modifications. Remove the custom ad blocker rule(s) and the page will load as expected.