"
There are people in the world who live only for themselves; there are people who live to torment others; there are also people who live to help those who suffer. And, of course, these are the only ones in the world.
"
 

— Hovhannes Tumanyan
Armeniaball (Հայաստան գնդակը; IPA: /hajastan gəndakə/) is a countryball located next to Turkeyball, Georgiaball (the European one), Azerbaijanball, and Iranball. It's known for having issues with Kebab over the years. Cannot into European Union because only Russiaball can understand his problems, so instead is into Eurasian Union. He is also a member of CSTOball. Armenia also can into pretty and unique Elvish alphabet like Georgiaball.
Religion
95% of the population is Christian. Worth mentioning that Armenia is known to be the first state to adopt Christianity as religion. Has his own sect of Christianity called Armenian Apostolic. There are thousands of churches on his clay. He has one functioning mosque for the whole country built when Persiaball ruled him, mostly only used by Iranball tourists. And the one pagan temple of his that wasn't destroyed by Christians is occasionally used by a small sect of neopagans.
History
You of wonderings, who is of Armenia? Well sit down, grab some khorovats and lettings me tell you a tale of Armenia. Armenia is of very ancient don't deny or no apricot stone. Armeniaball was even first mentioned by Persiaball in 500's BC, his clay appearing in world's oldest map. Armeniaball was born after his father Urartuball and Nairiball married. Nairiball joined

Urartuball but he got assholes kicked by

Assyriaball. Even though Armenball's father was Assyria's arch nemesis, they got very well togethers. Armenia's real name is Hayastan and it came from gloriousest hero Hayk who defeated evil not kebab yet Bel (king of Babylon). Around that time when Armeniaball was followings pagan religion, Saint Thaddeus and Bartholomew came to Armeniaball and introduced

Christianityball to Armeniaball. Armeniaball did not convert but, he was into thinking about that. Armeniaball had many great friends like some

Greek city-stateballs,

Khachapu... ergh... I meanings Iberiaball, Caucasian Shqip Albaniaball (just hopings he not become into

pain in my assholes and many more friends. In the 1st century BC Armenia had the biggest amount of clay than he ever had under the rule of glorious caesar remover of them all, Tigran Mets (Tigranes the Great). But, that glory did not last very long. Unlucky but, Armenia was in between of two great assholes empires,

SPQRball and

Parthiaball. SPQRball has caesared his way and ate Ancient Greeceball and came close to Armeniaball. Parthiaball on the other hand was trying to CONSTANTLY CONVERT ME TO SHITE

ZOROASTRIAN. They fought countless wars to anschluss Armenia and at some point they did but, Armenia would become independent again. Sometimes of Rome and Parthia were actually nice and not into anschluss but mostly anschluss. Things went otherwise as both SPQRball and Parthiaball went full anschluss on Armeniaball and then against each other. By that Armeniaball would again be released from anschluss but stay in influence of both of these apushner empires. Armenia lived happy until in the 3rd century Parthiaball got sick with CLAY REMOVING ZOROASTRIANIST ANASOUN

Sassanidball. Sassanid anschlussed Armenia in 252 AD and Rome kickings Sassanid's assholes but also anschluss Armenia. Armenia was divided between Roman clay and Sassanid clay. In 384 AD SPQRball died and his son

Byzantineball who also was Greece's son continued to rule over Armenia's clay. In 428 AD the last dynasty of Ancient Armeniaball has stopped ruling as Armenia's clay became split between Byzantineball and Sassanidball.
In 301 AD Armenia remembered the two apostles (Thaddeus and Bartholomew who into visitings him and introducings Christianityball, and following the blessed and greatest Grigor Lusavoritch (Gredory the Illuminator) who converted Armenia's king at that time Tiridates III into Christianity, Armeniaball became the first country in the world to accept Christianity as his state religion because

Sassanidball was pain in Armenia's assholes by trying to convert into shite Zoroastrian its of best religion. In 405 AD Mesrop Mashtots created the Armenian aybuben (alphabet) which meant Armeniaball could translate Bible finally no Gyro bible. In 450 AD Sassanidball of becomings into alot of pissings because Armenia become Christian and not crap Zoroastrian that he was into forcing Armeniaball to be converted. At that time, under the leadership of respectful and honored Vardan Mamikonian, Armeniaball led a rebellion in which Sassanidball had much more army and even fought with war elephants. But, glorious Vardan kickings Sassasnids assholes and Sassanid of promise to leave Armeniaball to be Christian. Time of passings... Armeniaball did not get his goddamn independence and annex everyone lived a happy life with autonomy from both Sassanidball and

Byzantineball with freedom to be

Armenian Orthodox in both empires. In the 7th century when

Muslim caliphates rose up, they fought the Byzantineball and Sassanidball for clay. Sassanidball was killed and Islamball was spread to Persian clay. Using the opportunity, Armeniaball of ask

Abbasidball for independence who giving Armenia independence in 880 AD. Armeniaball was of split in kingdoms like

Kingdom of Artsakhball, Kingdom of Loriball and more. Of Vaspurakan later split from Armeniaball and Armeniaball tried to get him back to be his clay. In 1045 anasun Byzantineball used the war Armeniaball and Vaspurakanball had anschlussed the capital
Aniball from Armenia then ate it whole. Kinda anticlimatic doesn't it seemings so? Of Armeniaball was actually being treated well under Byzantineball but he of tryings to convert him into

Orthodoxyball.
Kebab arrives, Crusades and Ciliciaball
Of after

Islamball spread his stupid sandal beatings beliefs in Arabia and Persia, Armenia's dear friend Caucasian Albaniaball fell into Islamball and became completely unrecognizable. However many of Armenia's friends like

Kingdom of Georgiaball fought well against many caliphates and

Assyriaball who was controlled by camel riders Muslims but, of managed to be safe. In 11th century, something was of born that was of great cancer disaster to us all. The

Seljukball, of first kebab to arrive. He was not of nice to me and my friends. He would into killings many of non-Muslims and Armeniaball had enough of his shit. Me and Georgiaballremoved him from premises and helped Georgiaball retrieve his capital
Tbilisiball. To be safe from butthurt kebabs, Armenballs decided to migrate to Taurus mountains where

Byzantineball would give them some clay to live in thus making

Ciliciaball being born. Seljukball of dyings later but his son

Rumball was into growing strong with many other caliphates like

Fatimidball and

Abbasidball. During the First Crusade, Ciliciaball got close ties to the European crusader states like

Kingdom of Franceball,

Kingdom of Englandball and the rest of crusaders. Together they removed smelly

Seljukball and saw the birth of

Edessaball,

Antiochball,

Tripolyball and

Jerusalemball. All was going of good until

County of Edessaball got destroyed by

Zengidball and then

Mamlukball anschlussed all of the Crusader States later, including Cilicia.
Armenian clay was divided into two before World War I. It was divided between gyot

Ottomanball and Persiaball (later

Russian Empireball). When World War I started Ottomanball suspected Armenballs that they are traitors and help Russiaball when in reality because Armenian homeland was into split and Armens lived in both sides (Eastern and Western) Armenballs not into want kill each other so Western Armenballs refused to fight their own people. Ottomanball got into pissed and decided to remove Armenians causing Armenballs to flee to all over parts of the world. When Russiaball got sick with

Communismball,

First Republic of Armeniaball became an independent country. To avenge for their families slaughtered by evil kebab, Armenballs started to fight the kebab alongside

Greeceball and

Serbiaball. That was when the Kebab Removers were born. Armenballs were lead by the greatest kebab remover of them all (aside Tigranes) Andranik. Even the

Kurds who fought alongside

evil kebab said that Andranik was like a "ghost", a bullet would basically go through him. A great victory came when the war ended but, it came with a great cost. When

evil kebab finally GOT REMOVED FROM PREMISES!!! REMOVE KEBAB! REMOVE KEBAB YUO ARE WORST TURK! REMOVE SULTAN! REMOVE YOUNG TURKS! REMOVE ISTANBUL! CONSTANTINOPLE OF TRUE GREEK CLAY! died, some clay was handed to Greeceball and Armeniaball. Yuo would think is that the happy ever after ending. No. Rest was getting no better. Armeniaball had to defend itseld from

evil kebab's son
Turkeyball who wanted Armeniaball's clay.Please mercy Kebab!! As well Armeniaball had to return

Loriball from

DR Georgiaball and
Nagorno-Karabakhball from

DR Azerbaijanball. Armeniaball was way into exhausted and got anschlussed by tavari tsav

Soviet Unionball who also gave
Aniball to Turkeyball (now known as Karsball),

Nakhichevan and Nagorno-Karabakhball to Azerbaijanball. At least he of lettings me keep Loriball and Syunikball.
The 1920s were really scary ages as Stalin was in power of

Soviet Unionball and he would send a lot of people to Gulags so Armenballs could not fight against him. He made his state emblem showing glorious mountain Ararat which used to be part of Armenia's clay before the Armenian Genocide. Of coarse that pissed of dirty and smelly
Turkeyball. In 1939 World War II started but, the Soviet Union was not participating in it at that time and was minding his own buisness anschlussing

Finlandball and

Polandball. But, in 1941

Nazi Germanyball invaded the Soviet Unionball which made Armenballs join in the battle alongside all other socialist states. Armenballs has risked their lives to save many

Jewish people from Ataturk 2.0 Adolf Hitler. Many Armenballs died during the war and many other Armenballs who were around the world in diaspora also fought in the wesrern front. The war was finally over in 1945 and the Cold War has started. Very surprisingly but Armenian SSRball actually was sort of friends with

Azerbaijan SSRball. It was a time when all of nations in the

Warsaw Pactball were very good comrades and loved each other. In 1988 however

Nagorno-Karabakh Autonomous Oblastball did not want to be with Azerbaijan SSRball anymore and wanted to join Armenian SSRball instead. stupid Soviet said nyet and on top of that Azerballs caused pogroms in Sumgait and Baku which killed a bit more than 1000 Armenballs. The situation was sort of stable during Soviet rule. But when Soviet died from liver cancer, the war has started.
Armeniaball
Nagorno-Karabakh War has lasted from 1991 until 1994 and it was a bad war. Newly independent

Armeniaball suffered an earthquake in 1988 in Spitak and to this day there are rebuildings going on. Armeniaball would receive armament support from

Russiaball and

Greeceball. But very badly

Azerbaijanball also got help from
Turkeyball,

Israelcube,

Ukraineball and much more. Armeniaball and
Nagorno-Karabakhball were able to defeat Azerbaijanball. A ceasefire was signed but, Armenia suffered an economic blockade from Turkeyball and Azerbaijanball. To this day Nagorno-Karabakhball is independent but, no one recognizes him. With the war being won, Armenia rebuilt his economies by buildings railroad with

Iranball and having

Georgiaball help him export his goods to Europe. The 90s were not nice to Armenia, as not the war but he sufferings from very bad earthquake as well. But, in 2000s Armenia got on his feet and was ready to move on. Many Armenballs that live outside of Armenia that escaped from genocide helpings Armenia a lot. eshak was keep violating ceasefire and

OSCEball cannot doings anything about it, and hes the one that should punish those who violate ceasefire AND AZER VIOLATED IT!!! In 2015 Armeniaball joined
Eurasian Unionball and

CSTOball instead of havings paper signed with
EUball as he believed that Europe won't help much and decided to be closer with Russiaball. In 2016 Sheep lover's assholes exploded and he attacked
my little brother and as usual he got his assholes kicked and send back to Central Asia claimed victory while he was the one losing a lot. Armeniaball had decided to become from Presidential to Parliament Republic and will do so in 2018. Future still seems very interesting for Armeniaball.
Flag Color
Main Colors
Color Name
RGB
CMYK
HEX
Permission Red
217, 0, 18
C5-M93-Y100-K1
#D90012
Dark Powder Blue
0, 51, 160
C100-M78-Y1-K0
#0033A0
Chrome Yellow
242, 168, 0
C1-M42-Y96-K0
#F2A800
Family
Relations
Family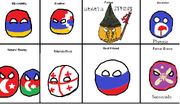 Friends
Neutral
Enemies
Gallery
Artwork
Comics
Links

Related templates

Ad blocker interference detected!
Wikia is a free-to-use site that makes money from advertising. We have a modified experience for viewers using ad blockers

Wikia is not accessible if you've made further modifications. Remove the custom ad blocker rule(s) and the page will load as expected.